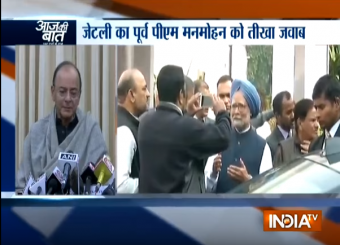 At a time when India is fighting a proxy war carried out by Pakistan in Kashmir, senior leaders of the Congress attended a dinner hosted by party leader Mani Shankar Aiyar in which former Pakistan Foreign Minister Khurshid Mahmud Kasuri and the Pakistani High Commissioner Sohail Mahmood participated. At the dinner, according to Dr Manmohan Singh, India-Pakistan relations were discussed, while Prime Minister Narendra Modi has alleged that the Gujarat election prospects also formed part of the discussion. In a statement on Monday, former Prime Minister Dr Manmohan Singh demanded an apology from the Prime Minister alleging that "falsehoods and canards" were spread against him about these discussions.
India's policy towards Pakistan does not belong to one party or one government. The policy reflects the overall mood and sense of the nation. The former Prime Minister and the former Vice-President are responsible dignitaries. Nobody objects if they attend Mani Shankar Aiyar's dinner, meet Pakistani leaders and officials and return. But the matter does not end here. Issues connected to foreign policy, India-Pakistan relations and Gujarat were discussed at the dinner. One expects experienced administrators like Dr Singh and Hamid Ansari to avoid getting caught in such a trap, and if they unintentionally fell into the trap, they should admit the same.
The question also arises whether Prime Minister Modi should have made such allegations during the Gujarat poll campaign, but the answer lies with Mani Shankar Aiyar, who gifted this issue on a platter to Modi on the eve of polling.
Click Here for the Video