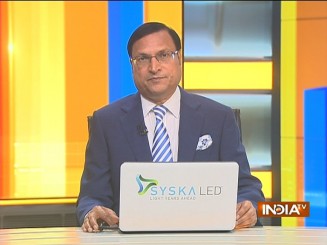 The manner in which police personnel in Delhi roughly manhandled and abused our medal winning wrestlers at Jantar Mantar on Wednesday night is nothing short of an atrocity. Those who have seen visuals of our champion female wrestlers weeping after the scuffle with police, will surely feel sad. The tears of our female wrestlers are bound to touch the chords of our hearts. Whatever happened on that night was atrocious. I agree, Aam Aadmi Party intervened in the sit-in to flex its muscles. I can also understand, with Manish Sisodia in jail, and Arvind Kejriwal worried after exposure of public money spent on his lavish official residence, AAP leaders wanted to use the wrestlers for their benefit. I can also agree, Congress leader Deepender Hooda is instigating the wrestlers and egging them on to carry on with their sit-in. I agree, other politicians are also trying to use the wrestlers to embarrass Modi's government. But my simple question is: Couldn't the situation been handled peacefully, and with care? Shouldn't the Sports Minister taken initiative in defusing the crisis? Shouldn't the government remain vigilant in disallowing others to take advantage of the sit-in? Shouldn't senior officials cleverly handled the situation to avoid bringing a bad name to police? The visuals of Wednesday midnight scuffle at Jantar Mantar have given ammunition to the opposition to attack the Centre. The common man feels offended and sad on watching our medal winning wrestlers being roughly manhandled by police. You can say, some of the wrestlers are adamant, they are misguided missiles, but they are not criminals. These wrestlers are not enemies of society. They brought fame and glory to our country. Even if they might have committed mistakes, they should have been given concessions. Government must start a dialogue with the wrestlers and solve the problem.
MUCH ADO ABOUT BAJRANGBALI IN KARNATAKA
The Congress has lodged a complaint with the Election Commission over Prime Minister Narendra Modi invoking the name of Bajrangbali (Hanuman) in his rallies in Karnataka. It has asked the Commission to restrain Modi from invoking the names of Hindu gods in his election speeches. Needless to say, Modi has completely changed the narrative in Karnataka elections. Congress, which was on offensive till recently, is now on the defensive. Priyanka Gandhi is asking voters not to take notice of BJP's 'Bajrangbali' campaign. Already Hanuman Chalisa is being recited in several cities of Karnataka by BJP supporters. To counter Modi, Congress leader D K Shivkumar has promised to set up Anjaneya (Hanuman) temples across Karnataka. Congress is now playing on BJP's pitch and has practically forgotten the local issues that it had been raising. On the Bajrangbali issue, BJP has an upper hand, and this can cause damage to Congress' prospects.
CASTE CENSUS PUT ON HOLD IN BIHAR
Patna High Court, on Thursday, issued an interim order staying the caste-based survey going on in Bihar. "Prima facie, we are of the opinion that the State has no power to carry out a caste-based survey, in the manner in which it is fashioned now, which would amount to a census, thus impinging upon the legislative power of the Union Parliament", the bench of Chief Justice K. Vinod Chandran and Justice Madhuresh Prasad said. The bench said, "We also see from the notification issued that the government intends to share data with the leaders of different parties of the State Assembly, the ruling party and opposition party, which is also a matter of great concern." Chief Minister Nitish Kumar's government had launched the caste-based survey in Bihar from January this year, saying that detailed info about socio-economic conditions of different castes, will help create better policies to help disadvantaged groups. It is also correct that when the decision on caste-based survey was taken, Nitish Kumar was with the BJP, and the latter had agreed to it. But, it is also a fact that the High Court has said that the state government has failed to convince why it wants to carry out the caste census. Secondly, if all parties had agreed on carrying out the caste census, why was a bill not passed by the legislature, instead of a resolution. Thirdly, the High Court has pointed out that caste-based survey can cause violation of individual privacy, and hence, an interim stay is necessary. The ball is now in the court of political parties, which are going to start the blame game.