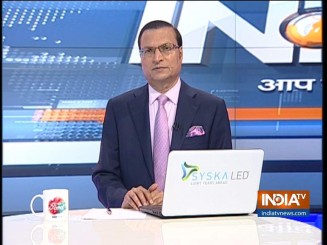 BJP President Amit Shah in a show of strength on Tuesday took out a big road show on the streets of central Kolkata, considered to be the impregnable bastion of Chief Minister Mamata Banerjee's Trinamool Congress. The large turnout of people at the road show was a clear sign of challenge to the hegemony of Trinamool Congress in West Bengal.
In the morning, Trinamool Congress supporters left no stone unturned to foil the road show. Local policemen along with TMC supporters tore off posters and banners on the streets of Kolkata and openly intimidated Modi supporters.
Despite provocations, the road show began peacefully from Esplanade and Dharmatalla. Large number of Modi supporters joined the road show which was enriched with tableaux depicting the diverse culture of Bengal. The roadshow stretched for several kilometres with BJP workers shouting 'Jai Sri Ram', 'Amit Shah Swagatam'.
Never in the history of West Bengal, BJP had organized such a huge turnout of supporters. Even local BJP leaders had not dreamed that people will join the road show in such large numbers. The streets of Kolkata turned saffron with party president Amit Shah and other top BJP leaders standing on top of a truck with people showering flower petals on them.
An elated Amit Shah told India TV reporter that the huge turnout clearly indicated signs of change in West Bengal. 'At first we thought we would win 23 seats in Bengal, but seeing the crowd I can surely say we will cross this number', Shah told our reporter.
Towards the end of the roadshow, desperate TMC supporters threw sticks and bottles at Amit Shah's truck, and the BJP leaders were immediately taken to safety by para military forces.
Clashes erupted near Calcutta University, where TMC and BJP supporters fought pitched battles. Several motorbikes were set on fire in front of Vidyasagar College. Prime Minister Narendra Modi, on hearing about these clashes, told India TV reporter in Chandigarh that the "people of Bengal will give a befitting reply to Mamata Banerjee for this attack".
Political pundits including editors of local dailies told our reporter that they never expected such a huge turnout at the roadshow. Tuesday's show of strength clearly indicates a big undercurrent going on in favour of Modi among Bengal voters. If the popular mood converts into votes, it will be a big headache for Mamata Banerjee in the coming weeks, as the last phase of polling takes place on May 19.
Click Here to Watch Full Video| Get connected on Twitter, Instagram & Facebook