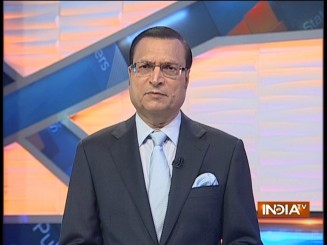 Gujarat Congress MLA and Kshatriya Thakor Sena leader Alpesh Thakor on Tuesday became emotional after fingers were pointed at him in the wake of hate attacks against labourers from UP and Bihar. Alpesh Thakor said that his son was down with dengue and was on the sick bed. It is true that Alpesh's son had a very low platelet count of 28,000 which fell to 13,000 on Tuesday. The child's condition is serious and our prayers are with him, so that he recovers soon and returns home from hospital.
This is now the time for Alpesh to introspect. If he is so much concerned about his son's health, he should also be concerned about the children of migrant labourers fleeing Gujarat in panic because of hate attacks by supporters of his Sena.
Alpesh had given provocative speeches in which he had called for "weeding out the bushes" that have grown up in Gujarat. These "bushes" (migrant labourers) are also human beings and they have families to look after. They have given their blood and sweat in return for wages to build industries in Gujarat. They too are Indians, and Alpesh, in order to garner support from his community, had been spreading hate against Hindi-speaking labourers.
According to the 2011 census, Gujarat's poulation was six crore three lakhs, out of which two crore 69 lakhs are migrants, who have settled there after migrating from other states. Seventy per cent of workers in Gujarat's industries are North Indians. More than 15 lakh labourers from UP and Bihar live and work in Surat, Valsad and Navsari. The population of the city of Surat is roughly 55 lakhs, out of which 30 lakhs are migrants.
Those who are spreading hate in Gujarat should understand that if the migrant workforce leaves, it will badly affect the state's economy. Gujarat is India's leading developed state, and a major exodus of migrant labourers will harm the interests of Gujaratis too.
Click Here to Watch Full Video | Get connected on Twitter, Instagram & Facebook