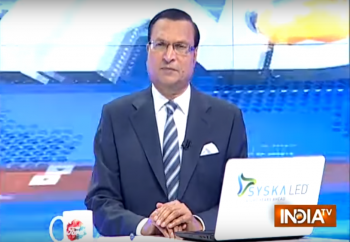 On the intervening night of Saturday-Sunday when news came around 2.30 am that actor Sridevi had died of cardiac arrest, it shocked and jolted the entire nation. Sridevi was only 54 and she had no previous history of cardiac problems. There was outpouring of grief on social media, but soon the atmosphere was vitiated by slanderous speculations. On Monday, when Dubai police announced that the actor died of 'accidental drowning',the rumour mills went on overdrive, and baseless motives were attributed to the grieving husband Boney Kapoor. There was practically no end to wild speculations on social media.
On Tuesday, the Dubai Prosecution Office finally issued a report ruling out any foul play and the body was handed over to the family, who heaved a sigh of relief as the mortal remains of Sridevi were brought to Mumbai. Naturally, those who had been raising questions for nearly 60 hours on the actor's death, are now silent, because of the conclusion reached by Dubai Police. Nobody can allege that the Dubai Police can be manipulated. Had this accidental drowning took place in India, innumerable questions would have been raised, fingers would have been pointed.
Even when the mortal remains were lying in Dubai, there were baseless reports on social media saying that Boney Kapoor has been arrested, Sridevi was murdered, signs of injury were found on her body, and that there would be a second round of post-mortem. All these reports later proved to be hoax. Those who circulated such baseless reports should now learn a lesson: never trust speculative reports based on conjectures. Let's hope that no other personality should ever face a similar problem in future.
Finally, I want to tell our viewers that there are still questions remaining in the mind of people as to how Sridevi fell in the bathtub, what was the cause of drowning, how much water was there in the tub, why alcohol was found in her body though she never consumed alcohol regularly, etc. But these questions in themselves do not point to the conclusion that her husband was the murderer, or that there was any foul play. Those who know Boney Kapoor closely can vouch that he was deeply in love with Sridevi. One can only imagine the pain that Boney may have endured because of this calumny.
This is not the first time that such calumny was heaped on big personalities. I remember there were baseless rumours circulating about Indira Gandhi's hand behind her son Sanjay's death in an air accident, about R. K. Dhawan's hand behind the gruesome assassination of Indira Gandhi ( I still remember Dhawan literally weeping because of such rumours), about Sonia Gandhi's hand in the assassination of her husband Rajiv Gandhi in Sriperumbudur (alleging that she was a beneficiary).
There was no social media during those times. Such rumours reached only a handful of people and died their own death. And yet, such rumourmongers need to be condemned. In today's social media scenario, the person circulating the baseless rumour is himself/herself a detective, plays the role of investigator and like a judge, delivers the verdict. Such a tendency is dangerous for our society and our nation.
Click Here to Watch Video | Get connected on Twitter & Facebook