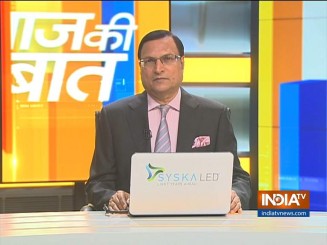 The temple of democracy of the world's most powerful nation was stormed and vandalized by a violent mob of hoodlums on Wednesday after they were incited by the outgoing President Donald Trump in a disgraceful end to his four-year tenure.
Four persons lost their lives in the clashes that occurred shortly after Trump incited thousands of his supporters to march towards the US Capitol. At that time, the US Congress was preparing to certify the victory of his successor Joe Biden. During his 70-minute speech outside the White House, Trump described the election results as "a fraud" and he asked his supporters gathered at the National Mall to go to the Capitol immediately to stop what he called "this stolen election".
Calling the US presidential election as "this egregious assault on our democracy", Trump told his supporters "to walk down to the Capitol". He returned to the White House, berated his own Vice-President Mike Pence on Twitter, and then monitored the mob violence as it unfolded live on television in the Oval Office.
Incited by their leader, the supporters, some of them carrying weapons, swarmed the Capitol complex, marched into the parliament, draped a Trump flag over the Capitol balcony and disrupted the process of vote certification that was going inside the US Congress. The mob forced US Representatives and Senators, journalists and officials to hide, take cover and then flee the building. The Vice-President Mike Pence and other senators were whisked away by security officials to a secure location. As the lawmakers were rushed out to safe locations, the staff snatched the boxes containing the crucial Electoral College certificates before the mob could come and destroy them.
The violent mob entered the Senate chamber, rummaged through mahogany desks and sat on the marble dais on which Vice-President Pence was seated several minutes ago. Tear gas was fired at the Capitol Rotunda, as security staff handed out gas masks to reporters and the senators took out their own masks from their desks. The hoodlums entered Speaker Nancy Pelosi's chamber, one of them sat on her chair with his legs on the desk, and another carried away a huge lectern. Never in the 232 years of democracy in America had such a rampage taken place inside the US Capitol. Pipe bombs, Molotov cocktails and guns were seized during a security sweep after the violence ended.
Millons of people watched these scenes on TV in shock and disbelief as democracy in the world's most powerful nation descended into turmoil. It was shocking to note that one of the four persons killed in the violence was a female Trump supporter who was a US Air Force veteran. About 1,100 troops from DC National Guard and 650 troops from Virgina were deployed to guard the Capitol on Wednesday night after the violence abated.
As the violence drew worldwide condemnation, and former US Presidents Geroge W. Bush, Bill Clinton and Barack Obama condemned the rampage, President Donald Trump grudgingly conceded defeat, but in a statement, he said he disagreed with the outcome of the election.
Trump said: "These are the things and events that happen when a sacred landslide election victory is so unceremoniously and viciously stripped away from great patriots who had been badly and unfairly treated for so long. Go home with love and in peace. Remember this day forever." This statement was posted on social media by Trump's aide, after Facebook and Twitter officially blocked the US President's accounts.
For the first time in the 232-year-old US democracy, shots were fired inside the sacred precincts of US Capitol. Though President Trump has agreed to a peaceful transfer of power on January 20 to Joe Biden, the Washington DC Mayor has announced a 15-day public emergency in the capital.
World leaders condemned the violence. UK Prime Minister Boris Johnson described these scenes as 'disgraceful', German Chancellor Angela Merkel said: "These pictures make me angry and sad. I deeply regret that since November, President Trump has not accepted that he lost and did not do so again yesterday." Prime Minister Narendra Modi tweeted: "Distressed to see news about rioting and violence in Washington DC. Orderly and peaceful transfer of power must continue. The democratic process cannot be allowed to be subverted through unlawful protests."
Trump's successor Joe Biden said: "Let me be very clear – the scenes of chaos at the Capitol do not reflect a true America, do not represent who we are. What we are seeing are a small number of extremists dedicated to lawlessness. This is not dissent. It's disorder, it's chaos. It borders on sedition and it must end now."
The people of USA are rueing the day when they elected Trump as President four years ago. They are surprised to find a President unwilling to vacate his chair after he lost the election by a margin of several million votes and refused to concede defeat.
Like Trump, there are politicians in India who refuse to accept the people's mandate even after Narendra Modi scored landslide victories in two consecutive parliamentary elections. These politicians are unwilling to accept Modi as the Prime Minister. The people of India elected Modi with decisive mandates, but these politicians are unwilling to concede that they have lost. They want to set their own agenda for policies that concern the citizens of India. Our democracy is so strong and resilient that these politicians have been thoroughly exposed when they raised controversies over issues like EVMs and the voters showed them their rightful place.
A powerful nation like the USA which used to sermonize other countries on democracy, is now being advised by others how to run its democratic institutions.
One more point: those who ransacked the US Capitol on Wednesday were not poor, hungry, downtrodden or deprived. They were literate, were economically sound and some of them were carrying weapons. Nobody can say that the protesters in Washington were penniless.
The election of a 'chaiwalla' as the Prime Minister reflects the sagacity of the Indian electorate that dethroned the prosperous and powerful class that had been in power for generations. These are the people who are still unwilling to concede their defeat. They are constantly exploring ways and means to incite sections of society against Narendra Modi.
We must learn lessons from the turmoil that took place in Washington. How mobs were incited by none other than the Head of State. We should be on our guard and must not allow to become prey to the machinations of power seekers, who appear in different garb every time.