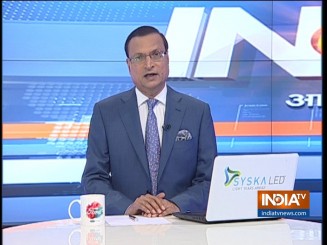 On Friday night at around 9.21 pm, Pakistan handed over our Indian Air Force Wing Commander Abhinandan at the Wagah border, but before making this humanitarian gesture, it circulated a video of Abhinandan, in which the IAF prisoner, clearly under duress, was made to "praise" the treatment meted out by his captors, and as an added dose, he was made to criticize the Indian media. This shoddy piece of cheap PR was done by the Pakistani army to gain brownie points, and the video itself showed more than three dozen cuts. The video was chopped to pieces, and badly edited.
As India salutes and welcomes back her brave warrior who downed a Pakistani F16 jet fighter, questions arise about the intentions of Pakistan in the current round of hostilities.
I would like to mention here an incident from our epic Ramayana, where Lord Rama waited on the seashore for several days, praying to the Sea God to allow access to his Vanara Sena (army of monkeys) to launch attack on the demon king Ravana's kingdom Lanka. There was no response from the Sea God. Finally, an angry Lord Rama took out his bow and arrows to aim at the sea, vowing to vaporize the sea. The Ramayana notes that the Sea God, in a frightened state, appeared, and with folded hands appealed to Rama not to vaporize the sea, and willingly offered access to the Vanara Sena.
The moral of the story: Rod is the logic of fools ('Laaton ke bhoot baaton se nahin mantey') Till now, Pakistan had been carrying out terror attacks in India, and we used to make appeals to Pakistan to desist from harbouring terrorists. The entire narrative changed after the Pulwama terror attack. They killed 40 of our CRPF jawans, and we decided to strike back, deep inside Khyber Pakhtunkhwa. After we decimated their terror camp, Pakistan is now speaking the language of peace and offering dialogue.
My view is very clear: India need not show forgiveness or mercy to those who have caused mayhem on our soil. Pakistan was never trustworthy in the past, and it cannot be trusted now, nor in the future.
Prime Minister Narendra Modi understands this clearly and he has already made up his mind. Any big terror attack, and India will strike back. He has got the support of most of the world's big powers on this point. It is time to salute the strong leadership of our Prime Minister and also laud the valour displayed by our Armed Forces. The bravery and valour of our jawans, our officers, our pilots, our navy personnel, our border guards shall always remain etched in the memory of Indians. Forever.
Click Here to  Watch Full Video | Get connected on Twitter, Instagram & Facebook