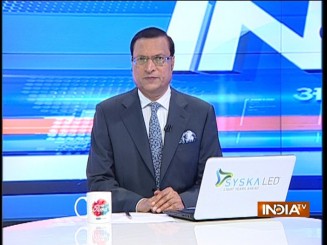 The passing away of the DMK patriarch Muthuvel Karunanidhi will not only have a big impact on Tamil Nadu politics, but will also affect national politics. The 94-year-old politician was adept in maintaining a fine balance, both in his personal life and in the realpolitik space. He was at times closer to the Congress and at other times, he came close to the BJP.
Politics in Tamil Nadu has witnessed the passing away of two giants – J. Jayalalithaa and M. Karunanidhi – within a short span of one year. Jayalalithaa's passing away immediately caused a big split in the AIADMK, it resulted in the purge of Jayalalithaa's close confidante Sasikala, and the party is now being run by a mix of both EPS and OPS factions.
There are differences in Karunanidhi's extended family too. His sons – M K Stalin and M K Azhagiri were at loggerheads. But the old patriarch, in the autumn of his life, stood like a giant banyan tree giving shade to both the factions. The party stood as one and the old man anointed his son Stalin as his political successor. He sent Azhagiri to the Centre as minister, but his son was unhappy and he protested. Karunanidhi sent him out of the party. The patriarch then sent his daughter Kanimozhi to the Centre as MP, and thus paved the way for his favourite son Stalin to take over the party's reins. But now, with the passing away of the titan, it will become a big challenge for Stalin to keep the party united. This is bound to impact Tamil Nadu politics in the near future.
Karunanidhi stood like a colossus in Tamil Nadu politics for several decades. At the Centre, he was the oldest living politician in the front ranks, who had witnessed the freedom movement right up to the alliance politics at the Centre, rivalled only by Akali Dal supremo Parkash Singh Badal.
Karunanidhi was a writer, orator and leader par excellence. He fought against casteism all through his life – first through his writings, his plays, his oratory and then through agitations. He was chief minister of Tamil Nadu for five terms. In his 62 years of legislative career, he never lost an election. To lead a political party for 50 years and still keep his popularity intact, was no mean achievement. It is because of this, that he was affectionately called 'Kalaignar' (artist, scholar) by the people of Tamil Nadu.
The artiste has now taken his last bow, and his memory will remain through his creations, his writings, and his work among the downtrodden as their chief minister. On behalf of India TV family, I offer my sincere condolences to his family and pay my tributes to the departed leader.
Click Here to Watch Full Video | Get connected on Twitter, Instagram & Facebook