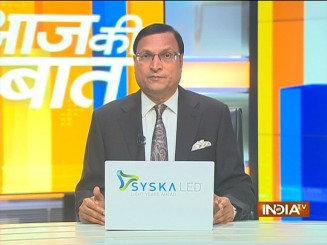 After four days of hectic parleys, the Congress on Thursday announced, former CM Siddaramaiah will take oath as the next chief minister of Karnataka, while state party president D K Shivakumar will be sworn in as deputy chief minister. The new cabinet will be sworn in on May 20 at 12.30 pm in Bengaluru, said party general secretary K C Venugopal. Shivakumar will continue as state party president till 2024 Lok Sabha polls are over, he said. He did not reveal the power-sharing formula agreed upon between the two claimants for CM post. Till Wednesday night, Shivakumar was adamant and wanted the chief minister's post for himself, but he later relented due to pressures from Gandhi family. Apart from fulfilling electoral promises, the Congress wants to come out with a good result from Karnataka in next year's Lok Sabha elections. In the 2019 LS polls, Congress won only one out of a total of 28 LS seats. The lone seat was won by D K Shivakumar's brother D K Suresh. The Congress high command knows that for scoring a good result in LS polls, the party leaders will have to work unitedly. Now that the rapprochement has taken place, the party hopes for the best in next year's LS polls.
BAGESHWAR DHAM CHIEF'S BIHAR VISIT
Bageshwar Dham chief Dhirendra Krishna Shastri left Bihar after a four-day visit, with thousands of devotees following him to the airport tarmac. On Wednesday, posters of Shastri were found blackened and defaced with the numerals '420' written on some of them. BJP leaders Manoj Tiwari and Vijay Sinha demanded action against those who defaced the posters. In reply, RJD leader Mrityunjay Tiwari challenged BJP to project Dhirendra Krishna Shastri as its chief ministerial candidate in Bihar. Shastri will now visit Gujarat. Three points are clear from the political comments made by Bihar politicians: One, Lalu Yadav's Tej Pratap Yadav had threatened not to allow Shastri to enter Bihar, but the latter came, stayed for four days in Bihar and gave sermons at his 'durbar'. Huge crowds assembled at the pandal, while RJD leaders watched the spectacle silently. Two, RJD leaders levelled charges against Shastri for violating the Constitution and laws, but looking at his huge popularity, they could not summon the courage to file FIR or take action against him. Three, when a senior RJD leader described Dhirendra Krishna Shastri as a 'madaari' (juggler) fooling the people, Shastri replied: 'Same to you'. When the baba was told that his posters were defaced and blackened, he replied, 'how can anybody erase the faith of our devotees?' Dhirendra Krishna Shastri's replies are quick-witted, and through such repartees, he silenced his political rivals. He carried on with his sermons and left Bihar, and nobody could stop him. It could have been better if RJD and JD-U leaders had attended his discourse and remained silent instead of making political comments. Shastri would then have been deprived of his chance to make his quick repartees.
'UNHOLY' ACT AT TRIMBAKESHWAR SHRINE
The Shiv Sena-BJP government in Maharashtra has formed a Special Investigation Team to probe how a group of Muslim youths tried to enter the famous Trimbakeshwar temple, in Nashik, considered a holy Jyotirlinga shrine by Hindus, on May 13 night. The youths, numbering 10 to 12, tried to enter the sanctum sanctorum by carrying a green 'chadar' and a sheet of flowers, but on seeing security guards, they quickly left the place. On Tuesday, the temple was 'purified' with holy Godavari water and cow urine, and the jyotirlinga was washed with water brought from seven rivers. Entry of non-Hindus is barred in this shrine. An FIR has been filed against four persons, including a Muslim dargah caretaker Matin and Salim Syed. Matin Syed said, 'sandal yatra' takes place every year on behalf of Muslims till the main gate of the temple, but Hindu leaders say, nobody is allowed to enter the shrine. Matin Syed said, their livelihood depends upon devotees who visit the shrine daily, and every year they offer 'lobaan' (frankincense) outside the temple. Hindu outfit activists staged protests at Shivaji Chowk on Tuesday, and security at the shrine has now been beefed up. Hindu outfits are demanding action under MCOCA Act against those who violated the sanctity of the shrine. Shiv Sena (Uddhav) leader Sanjay Raut said, this was a BJP conspiracy. BJP leader Tushar Bhosale replied, Shiv Sena (Uddhav) has now become an anti-Hindu party and it seems Sanjay Raut has stopped being a Hindu. NCP leader Chhagan Bhujbal said, several Muslim artistes had performed in the temple premises in the past, but nobody raised the issue at that time. He also alleged that the BJP was trying to divert attention from real issues. Trimbakeshwar is one of the 12 Jyotirlingas spread across India, and is considered holy by millions of Hindus. If any mischief occurs at a holy shrine, the sentiments of Hindus are hurt. It is a good thing that Deputy CM Devendra Fadnavis immediately ordered SIT probe, and those who tried to enter have also come forward with their versions. One should wait for the inquiry report and there should be no politics on this score.