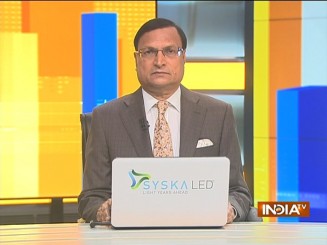 The suspense over the post of chief minister in Karnataka continued on Wednesday with both claimants Siddaramaiah and D K Shivakumar meeting Congress leaders Sonia and Rahul Gandhi, amidst media reports that Siddaramaiah may be made the CM and Shivakumar may become deputy CM with several plum portfolios. Later reports said, Shivakumar does not want Siddaramaiah to become the CM. The situation continues to be fluid with no formal announcement made till afternoon. The Sri Kanteerava stadium in Bengaluru is being kept ready for the oathtaking ceremony. Party spokesperson Randeep Surjewala said, the oathtaking ceremony will take place within the next 48 to 72 hours. He said, talks for the post of CM are still continuing and no final decision has yet been taken. The top Congress leadership is trying its best to work out an amicable agreement. This is not a new phenomenon. Whenever the Congress wins after fighting a long battle, several leaders try to claim credit for the victory. The two main claimants are known to all, but there are some others behind closed doors. Taking a decision may not be easy for the high command. Siddaramaiah claims he has the majority support of newly elected MLAs, while D K Shivakumar claims that his contribution to the party's victory is big. Siddaramaiah wants a last chance to become CM, given his age, while DK Shivakumar says, his loyalty to the Gandhi family must be taken note of. A solution may be reached within a day or two. Congress does not want to commit any mistake that can create a Rajasthan type crisis.
CONTROVERSY OVER BAGESHWAR DHAM HEAD IN BIHAR
The Hanumant Katha organized by Bageshwar Dham head Dhirendra Krishna Shastri in Naubatpur near Patna has drawn huge crowds on all five days. Looking at the big response, Shastri has promised to come to Gaya, Bihar, again in September. Meanwhile, political circles in Bihar are abuzz with both the RJD and BJP camps taking snipes at each other. Top BJP leaders like Sushil Modi, Ravi Shankar Prasad, Giriraj Singh and Ashwini Choubey have already met Shastri and sought his blessings, while Lalu Yadav's son Tej Pratap Yadav, a minister in Bihar government, said, Bihar will witness "not Ram Raj, but Krishna Raj". Lalu Yadav made a cryptic comment, "What baba? He is not a baba". Tej Pratap alleged that the baba was abusing the people of Bihar. "Those abusing Bihar will face the Sudarshan Chakra", he said. Senior RJD leader Jagadanand Singh compared the baba with a 'madaari' (juggler). "He is speaking against the Constitution, and those who sponsor him cannot be patriots", he said. Union Minister Giriraj Singh said, "why should leaders who wear Muslim topis and attend iftar parties, go to listen Hanumant Katha? Because they do not find votes for their parties there". Chief Minister Nitish Kumar said, the baba's promise to make India a 'Hindu rashtra' is rubbish, and "I do not want to give it credence." One thing to note: Tej Pratap Yadav had earlier threatened not to allow the baba to enter Bihar, but when lakhs of devotees poured in to pandals to listen to the baba, he became silent. RJD and JD-U leaders are making caustic comments about the baba. I am surprised, where is the necessity to oppose a religious preacher, who gets so much public support despite heat wave, with thousands waiting for hours in pandals? Is Dhirendra Shastri being opposed only because some top BJP leaders went to the dais to welcome him? Is it because of allegations that Dhirendra Shastri has been brought to cause religious tension in Bihar? At least the leaders in Madhya Pradesh are more clever. Both chief minister Shivraj Singh Chouhan and Congress leader Kamal Nath went to Bageshwar Dham to seek his blessings.
TERROR THROUGH CONVERSION
Madhya Pradesh anti-terror squad has arrested 16 persons (11 from Bhopal and five from Hyderabad) in connection with a 'The Kerala Story' type conversion conspiracy. Police said, these people were working a radical Islamic outfit Hizb Ut Tahrir(HUT), spread over 50 countries, and has more than a million active members. HUT is considered more radical than the Islamic State. Among the eleven arrested in Bhopal are three persons, who were Hindus and Jains, and converted to Islam. These three persons converted four Hindu girls to Islam, and married them after changing their names. Telangana police cooperated and arrested five persons from Hyderabad. Among those arrested are a software engineer, a gym trainer, a person running a coaching centre and a computer technician. Police said, these people were working towards the aim of establishing Islamic rule in India through HUT. MP Home Minister Narottam Mishra alleged that one of those arrested was working in a college in Hyderabad, run by AIMIM chief Asaduddin Owaisi's brother Akbaruddin Owaisi. Police said, these HUT activists used to contact each other through the dark web. Among those arrested, Venu Kumar converted and changed his name to Abbas Ali, Devi Prasad Pandey changed his name to Abdur Rahman. Both lived in Hyderabad, while Saurabh Rajvaidya changed his name to Mohd Saleem. Saleem married a Hindu girl, Manasi and changed her name. According to police, the religious conversion was going on for the last 13 years. Saurabh Rajvaidya converted to Islam in 2010, and later converted other Hindu males and females. Some may argue that the Constitution gives every citizen the freedom to follow the religion he or she likes. If any Hindu converts to Islam, what is the harm? It's right, but to convert a citizen to another religion through conspiracy, allurement or deceit, is illegal. In this case, it appears people were misled by radical elements to convert to Islam and participate in anti-national activities. The matter should be thoroughly investigated and the truth must come out. Such activities can spoil the atmosphere in our country.