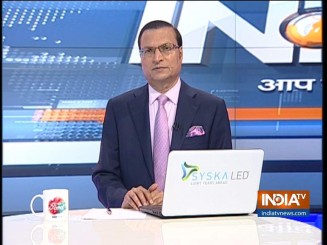 The stage is set for the swearing-in ceremony of Narendra Modi's new government at Rashtrapati Bhavan today. It will be attended by nearly 8,000 guests, including heads of state and governments of BIMSTEC countries and from Kyrgyzstan and Mauritius. Congress leaders Rahul Gandhi and his mother Sonia Gandhi will be among leaders who will attend the event.
Missing from the scene will be outgoing Finance Minister Arun Jaitley, who is fighting a battle over health issues. On Wednesday, Jaitley wrote a letter to Prime Minister Narendra Modi expressing his inability to join the new government because of health reasons. In his letter, Jaitley wrote that "I need a reasonable time for myself, my treatment and my health". Jaitley also wrote that "I would obviously have a lot of time at my disposal to undertake any work informally to support the government and the party".
Jaitley has been advised by doctors to avoid post-surgery infections and restrict his meetings with outsiders to the barest minimum. He had undergone kidney transplant last year and has been under treatment since then.
On Wednesday night, when senior BJP leaders and government functionaries were busy preparing the list of ministers, Prime Minister Modi went to meet Jaitley at the latter's residence. The Prime Minister has been very much concerned about Jaitley's health. He wants his colleague to recover fast so that he can work for the party and government at the earliest.
I have known Jaitley since my student days. He has the will power and determination to fight illness. Even when he was unwell during the election campaign, he worked for the party with full vigour. I believe Jaitley will not stay away from politics for long. He will recover soon and play an active role in politics.
Click Here to Watch Full Video| Get connected on Twitter, Instagram & Facebook