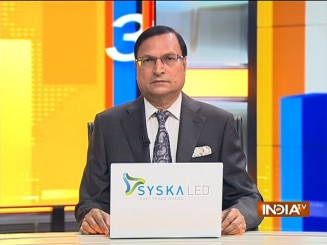 The line-up for 2024 Lok Sabha elections is now clear. This will be an electoral battle between Bharat versus INDIA (the new acronym for opposition alliance). In other words, it will be a battle between Modi versus The Rest. Modi has accepted the challenge, judging by his speech at the NDA meet on Tuesday evening. At present, Modi appears to be on a strong wicket. Opposition leaders argue that BJP had garnered 45 per cent votes in 2019 LS elections. In other words, 55 per cent votes went against Modi. They say, if these votes are mobilized, Modi can be defeated. But the ground reality is somewhat different. In 2019 LS elections, there were 224 Lok Sabha seats, where BJP had collected more than 50 per cent votes. On the other hand, six parties, Bahujan Samaj Party, Telugu Desam Party, Biju Janata Dal, YSR Congress, KCR's BRS and Deve Gowda's Janata Dal-S are not part of the opposition alliance. These parties have presently 57 members in Lok Sabha. All these six parties have good support base in their respective states. Consequently, these states, UP, Andhra Pradesh, Telangana, Odisha and Karnataka will be witnessing triangular contests. If we leave aside statistics, the biggest question is: who will be the face of opposition alliance to take on Modi? Who will be projected as the prime ministerial candidate? The moment this question crops up in the opposition camp, all unity efforts may go haywire. There are many claimants, and none of them is ready to give in. Nitish Kumar left soon after the meeting in Bengaluru on Tuesday, and this is not a good sign. Sources say, Nitish Kumar wanted to be named as convenor of the alliance, because it was he who initiated opposition unity moves by visiting different state capitals. It was he who brought leaders of all 26 parties on a single platform. He wanted the announcement of the name of convenor on Tuesday itself, but the issue was carried over to the next meeting in Mumbai. Nitish Kumar felt piqued and left the meeting venue in a huff. Lalu Prasad Yadav felt that so long as Nitish is not brought to the centre of national politics, the path will not open up for his son Tejashwi Yadav to take over as Bihar chief minister. So, Lalu, too, joined Nitish and did not attend the customary press conference after the meeting. Opposition leaders describe BJP as a communal party and claim that they have joined hands to protect secularism, but AIMIM chief Asaduddin Owaisi points out that Shiv Sena had always been with BJP, Nitish Kumar allied with BJP, even Mamata Banerjee and Dr Farooq Abdullah were in BJP-led government, but today, all these parties have become secular in the eyes of Congress. Owaisi says, he never went with the BJP, but Congress describes his party as the 'B' team of BJP. Opposition leaders say that BJP, in order to upstage opposition unity, added small and largely unknown parties to NDA to show that its alliance is bigger in number. It is true many small, regional parties joined NDA on Tuesday, and their leaders are not known on the national level. But it is also a fact that regional leaders like Om Prakash Rajbhar, Upendra Kushwaha, Chirag Paswan, Jitanram Manjhi, Anupriya Patel, Sanjay Nishad are leaders, who lead their caste voters who are vital in deciding election results for many seats. These leaders have a good support base among their caste voters. Had it not been so, why Nitish Kumar made Jitanram Manjhi the chief minister of Bihar? Why Upendra Kushwaha was made minister in Bihar despite revolting several times? If Om Prakash Rajbhar and Sanjay Nishad had no support base, why Akhilesh Yadav inducted them into his coalition? Akhilesh Yadav once won the Gorakhpur seat by allying with Sanjay Nishad. The latter joined BJP and in the byelection, Samajwadi Party was defeated. So, it will be incorrect to say that BJP leadership inducted small, insignificant parties in NDA to boost up the numbers. However, it is also a fact that once the opposition came together on a single platform, BJP was forced to accommodate its new and old friends in a win-win situation for both.
WILL OPPOSITION UNITY LAST?
Nobody can say how strong is opposition unity at present and how long will it last. None can predict this. One thing which all opposition leaders agreed in Bengaluru was that it was Narendra Modi who forced them to come together on a single platform. Just recollect some past events. Congress leaders used to berate Arvind Kejriwal, whose Aam Aadmi Party demolished the Congress in Delhi and Punjab. On Tuesday, the same Congress was posting video of Kejriwal's speech on its Twitter handle. On the reverse side, Kejriwal used to describe Congress as 'Mother of Corruption'. On Tuesday, he and his party leaders were accepting Congress as the protector of democracy. There was a time when Uddhav Thackeray used to tell his party workers to beat Rahul Gandhi with chappals, and on Tuesday, the same Uddhav Thackeray was saying that all should join hands with Congress to save democracy. Till last week, Mamata Banerjee used to describe Congress and BJP as two sides of the same coin and her party supporters threw bombs at Congress workers during Bengal panchayat elections. On Tuesday, Mamata Banerjee was saying Rahul is her favourite. Mamata had a long discussion with Sonia Gandhi over dinner on Monday night and continued her talks on Tuesday morning. It was because of their discussions that the opposition meeting started half an hour late. The most interesting part of the Bengaluru opposition meet was that NCP supremo Sharad Pawar remained silent. He reached the meeting on Tuesday, and throughout the press conference, he remained silent and later left quietly. Sharadrao's silence raises a big question. After what happened in Maharashtra, opposition leaders who had reached Bengaluru wanted to hear Sharad Pawar make his political stand clear in public, but he did not. As the press conference was going on in Bengaluru, 2,100 kilometres away in Delhi, Pawar's nephew Ajit Pawar and former confidante Praful Patel were being hugged by Prime Minister Narendra Modi, hours before the NDA meet was to begin. The Ajit Pawar faction of NCP had joined Modi-led NDA.
WHY MODI IS TOO CONFIDENT?
Prime Minister Narendra Modi fired on all cylinders at the opposition leaders both on Tuesday morning and evening, and set the agenda for 2024 elections: Corruption and Dynastic Politics. He said, 'kattar' (diehard) corrupt politicians are meeting in Bengaluru, and they were 'marketing a product which was different from the label'. Modi recalled a Bollywood song 'Ek Chehre Pe Kayi Chehre Laga Lete Hain Log', penned by Sahir Ludhianvi. Modi said, the 'shop' opened by opposition leaders provides two guarantees: casteist poison and unlimited corruption. He then went on to put the leaders in a hierarchy, and said, those who were 'big' in corruption get 'more' respect in opposition ranks. Those out on bail, he said, have less respect, but those who have been convicted, come as special invitees. The barbs were pointed and there is no need to describe whom these were aimed at. Modi said, leaders have assembled in Bengaluru not to defeat him, but to save their skin, because most of them are facing probes in major scams. Their sole aim is: 'save your family, do as much corruption as you can', he said. Modi is right when he says that there are parties in the opposition alliance, whose leaders have corruption cases against them. Cases by CBI and ED have forced these leaders to come on a single platform, and this is no secret. These leaders themselves say that their fight is less against BJP and more against ED and CBI. Had Modi's government not instituted cases of corruption against these leaders, leaders like Kejriwal, Mamata Banerjee and Congress would not have joined hands. These leaders feel that Modi has 'occupied' all institutions and they do not have faith in both media and judiciary. Since the leaders cannot say much against the judiciary, they vent their anger on the media. It was in this context that Modi, in his evening speech, was confident enough to claim that BJP's vote share in 2024 elections will cross 50 per cent and NDA will form government for the third time.