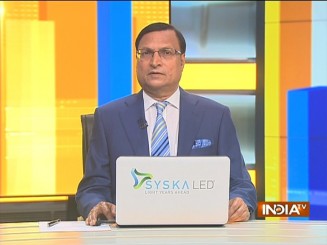 The murder of a journalist Vimal Yadav in Bihar at the doorstep of his house in Araria has caused widespread outrage with the opposition BJP alleging that 'jungle raj' has returned to the state. Bihar Police on Saturday said, four persons have been arrested, namely Bhavesh Yadav, Ashish Yadav, Vipin Yadav and Umesh Yadav, while remand has been sought for two others, Rupesh Yadav and Kranti Yadav, who are presently in Araria jail. Two accused are absconding, a police official said. The FIR filed on the basis of a complaint by the journalist's father names eight persons, out of which four have been nabbed. The journalist Vimal Kumar Yadav, working for Hindi daily Jagaran, was the sole witness of the murder of his brother, who was the local sarpanch, in 2019, and he was to depose in court. On early Friday morning, the four killers barged into his house, and gunned him down at the doorstep. This is the eighth attack on journalists in Bihar since 2016. Two days ago, a police inspector in Samastipur was gunned down by cattle smugglers in broad daylight. Vimal Kumar's family alleged that he had sought police protection because he was to testify in court against criminals, but he was not given. He was threatened by criminals not to depose, but he stood his ground. All the four killers had covered their faces at the time of crime. Police said, the murder of the journalist was due to old rivalry. The casual and insensitive manner in which Chief Minister Nitish Kumar reacted the murder is really shocking. His remark does not show the urgency expected from the head of a state government. State BJP chief Samrat Choudhary alleged that Nitish Kumar was busy travelling to Delhi and Mumbai. "He has no time to check what is happening in Bihar, where criminals have gone out of control", he said. Several questions arise. When the local police knew that the journalist's life was at stake because criminals were intimidating him not to testify in court, why wasn't he given protection? How did the criminals gather courage to reach the journalist's house to gun him down? I think the problem is with Chief Minister Nitish Kumar's lackadaisical attitude towards the rising crime graph. If daylight murders take place, people are bound to raise questions. Opposition parties will get a handle to attack the government, but Nitish Kumar or Tejashwi Yadav cannot defend themselves by saying that BJP is trying to defame the government. They cannot get away by saying that murders and crimes take place in Delhi too, and Manipur is on fire. If the media and police are not safe in Bihar, what can the common man expect?
CONGRESS APPLIES 'KARNATAKA FORMULA' IN M.P.
Both BJP and Congress are now in election mode in Madhya Pradesh. On Friday, Congress leader Kamal Nath released a 'Ghotala Sheet' (scam sheet) levelling charges of corruption against Chief Minister Shivraj Singh Chouhan's government. The tag line was "Ghotale Hi Ghotale…Ghotala Seth…50 per cent Commission Rate". The Congress leader alleged that 50 pc commission is being demanded to sanction government schemes. He referred to a purported letter written to the Chief Justice of MP High Court, Jabalpur, by Goshala Petty Contractors Association, Rewa. He said, similar charges of corruption were made by contractors in Gwalior. In reply, CM Shivraj Singh Chouhan rejected all charges of corruption and challenged Kamal Nath to come out with his final list of candidates soon. Chouhan promised to give his report card to the people in the next two days. BJP minister Vishwas Sarang described Kamal Nath as "Corrupt Nath". I feel, the Congress in MP is trying to follow the Karnataka formula and wants to take advantage of anti-incumbency. During Karnataka assembly polls, Congress had similarly referred to a letter from a contractors' association and blamed the then CM Basavaraj Bommai of running "40 per cent commission sarkara". In Karnataka, Congress had promised five guarantees, and similar guarantees are being given in MP. Bajrangbali issue was raised at that time, and in MP too, Lord Hanuman has become the issue. Congress took advantage of infighting in Karnataka BJP, and in MP, Congress is trying to take advantage of infighting in Guna division between Jyotiraditya Scindia camp and others. In Karnataka, Randeep Surjewala was in-charge, and he has now taken charge of MP. But one thing must be noted. Congress must realize, this is MP, not Karnataka, and the battle is against Shivraj Singh Chouhan. The MP CM has been hitting back at the Congress consistently and he has the backing of his party central leadership. BJP has given Amit Shah the charge of overseeing elections in MP, and Shah has already begun his work. He has visited MP four times, formed all committees, assigned responsibilities to party leaders, and has released the first list. Two days later, Amit Shah will visit Bhopal again to release Chouhan government's 'report card'. He will also visit Gwalior for meetings with leaders in Jyotiraditya Scindia's area. The BJP election machinery will then start working in full swing. Congress leaders may think that it is an easy fight in MP, but tthey are going to face a 'carpet bombing' of rallies by BJP leaders. Only then will it be known which way the wind is blowing.
RAHUL FROM AMETHI? PRIYANKA FROM VARANASI?
Uttar Pradesh Congress chief Ajay Rai on Friday announced that Rahul Gandhi will contest the Lok Sabha election from Amethi constituency next year, and if Priyanka Gandhi Vadra decides to contest from Varanasi, "our party workers will stake their lives to ensure her victory". Ajay Rai claimed that the voters of Amethi are unhappy with the present MP Smriti Irani and they are waiting for Rahul Gandhi to return. Ajay Rai was made the UP party chief only on Thursday, and within a day, he announced Rahul's candidature from Amethi. Ajay Rai has contested from Varanasi twice in 2014 and 2019 against Narendra Modi, and lost badly. BJP leader Sudhanshu Trivedi reminded Ajay Rai of his past and said, "There was a time when Congress used to win all 80 seats in UP, but now it is concentrating on only two or three seats. This shows the present condition of the party". Rahul Gandhi is presently in Leh watching a soccer match. It is difficult to say whether Ajay Rai spoke to Rahul before announcing his candidature. At least he did not say that Rahul will contest from Amethi only. This will at least leave some leeway for Rahul. Ajay Rai has however created a problem for Priyanka. If Congress decides to field her in the LS election, it will be a problem finding a safe seat. If Priyanka is not fielded from Varanasi, BJP leaders will say Congress has already conceded defeat. If Priyanka is fielded from Varanasi, it could be her loss. BJP has been consistently winning the Varanasi seat since 1991, and Narendra Modi has won the last two elections by record margin. It seems Ajay Rai has jumped the gun quite early, and in the process, he has created problems for both Rahul and Priyanka Gandhi.