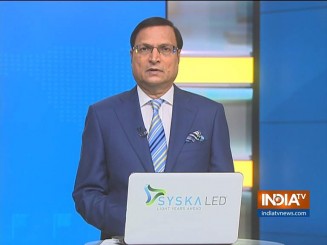 It is now almost clear that the Wrestling Federation of India will be freed from the clutches of its controversial chief Brij Bhushan Sharan Singh by next month. The new WFI president will neither be his relative, nor will any of his close associates be allowed to occupy any post. Sports Minister Anurag Thakur said on Wednesday that Brij Bhushan's control on WFI will now end. This was decided at a six-hour-long meeting between the minister and the protesting wrestlers. Secondly, the wrestlers have been assured that Delhi Police will complete within a week its probe into sexual harassment charges levelled against the WFI chief and a chargesheet will be filed by June 15. Thirdly, a woman will be appointed as chairperson of the WFI internal complaints committee and WFI office-bearers will be appointed after taking the opinions of players. Fourthly, all cases filed against the wrestlers during protest by Delhi Police will be withdrawn and they will be given protection. The protesting wrestlers assured the government that they will not sit on protest till June 15. Since the talks between the government and wrestlers were held in an open manner, all misgivings have been removed and most of their demands have been accepted. The outline of this agreement was prepared at Saturday night's meeting of wrestlers with Home Minister Amit Shah. The government's approach now appears to be positive. Whatever happened on Wednesday should have happened much before. Had these assurances been given to them several weeks ago, the world would not have watched the sorry spectacle of Delhi Police dragging the medal winning wrestlers on the streets. Nor would the wrestlers have taken the extreme decision to immerse their medals in the river Ganga at Haridwar. Better late than never. If the Sports Minister fulfills all these assurances, Indian wrestlers will be freed from the clutches of Brig Bhushan Sharan Singh. Our daughters who dream of becoming champions in wrestling will gain courage. Keeping in view the infamy that the Wrestling Federation faced during the last several weeks, the reins of WFI must now be given in the hands of a person, whose moral force can dispel the darkness that had descended on the federation. As far as Brij Bhushan Sharan Singh is concerned, if Delhi Police investigates the matter impartially, there are umpteen number of evidence and statements from which the WFI chief cannot wriggle out. Probably, he is expecting the legal cases to run for several years after the chargesheet is filed, like dozens of other criminal cases that were filed against him in the past. I feel, for Brij Bhushan, it could be difficult because the evidence and statements are now in public domain. Those who have filed complaints are champion female wrestlers who brought fame to the country. Any court will take their charges of sexual harassment seriously. There is one more side to this issue. Since the assurances from the government came late, several political parties and Khap Panchayats joined the protest to support the wrestlers. On Wednesday, the wrestlers said they would discuss the outcome of their talks with the chiefs of Khap Panchayats and will decide on future steps after taking their opinion.
HAS FARMERS' PROTEST BECOME POLITICAL ?
Farmers have been staging protests across Haryana demanding procurement of sunflower seeds at MSP rate. They blocked national highways at Kurukshetra, Rohtak, Sonepat and several other places on Tuesday and Wednesday. Several farmer leaders including Gurnam Singh Charuni have been arrested. On Wednesday, the Centre announced a hike of 7 per cent in minimum support prices for Kharif crops vis-à-vis the rates fixed last year. Farmers are alleging that wholesale buyers at markets are not purchasing sunflower seeds at MSP rates. Farmer leaders have said, they will continue with their stir unless sunflower seeds are purchased at MSP rates. There is no doubt that the Centre has raised the MSP for almost all crops during the last several years. It has been trying to provide relief to farmers, but the problem is at the ground level. Though the Centre raises MSP, buyers at mandis refuse to buy at MSP rate. Government procurement centres are not many, where farmers can sell their crops. Opposition parties are trying to take advantage of the miseries of farmers. Since assembly elections will be held in Rajasthan, MP, Chhattisgarh and later in Haryana, political parties have become active by taking up the cause of farmers. Blocking of highways have begun. The slogans are the same, the protesters are the same, the pattern is the same. These are the same which people noticed last year during the farmers' movement. Haryana Agriculture Minister has said, those protesting are not farmers but political agents in the guise of farmers. The matter has now become political.
OPPOSITION UNITY : HOW STRONG IS THE FOUNDATION?
Bihar chief minister Nitish Kumar will host a conclave of anti-Modi opposition parties in Patna on June 23. Congress President Mallikarjun Kharge and Rahul Gandhi, NCP chief Sharad Pawar, West Bengal CM Mamata Banerjee, Jharkhand CM Hemant Soren, Delhi CM Arvind Kejriwal, Samajwadi Party chief Akhilesh Yadav, DMK chief M K Stalin and Left leaders have agreed to attend. Earlier, the meeting was fixed for June 12, but had to be called off because several leaders had prior commitments. In Patna, as JD(U) leader Lallan Singh announced the names of leaders, RJD chief Tejashwi Yadav, sitting beside him, said, this was possible because of consistent efforts by Nitish Kumar and Lalu Prasad Yadav for forging opposition unity. There is no doubt that leaders of opposition parties have gathered on a common platform with the sole aim of ousting Narendra Modi from power. Most of these leaders are ready to forget past differences and join hands. The most interesting part is that Nitish Kumar, the man behind this effort, had been Bihar CM twice with BJP support. People in Bihar know that Lalu Prasad's RJD joined hands with Nitish Kumar due to political compulsions, despite being ditched by the Bihar CM twice in the past. Nobody can predict when Nitish Kumar can switch camps. The platform of all opposition parties that is being forged, is being built on weak foundations. The role of Congress in opposition unity will be important. Congress is the only opposition party with an all India base, and its leaders have good experience of running governments. But opposition leaders feel that Congress has changed its mood after its win in Karnataka. If Congress wins assembly polls in MP and Chhattisgarh later this year, it would be difficult to reign in the Congress. The latest example of change in the mood of Congress is its approach towards Arvind Kejriwal. The Delhi CM tried his best to cajole the Congress, but the Grand Old Party has refused to support AAP's efforts to oppose the Delhi-related ordinance.