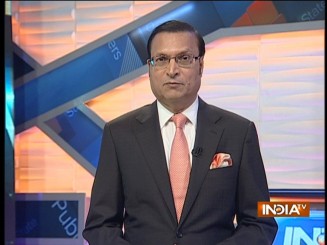 Uttar Pradesh state BJP president Mahendranath Pandey on Friday said that chief minister Yogi Adityanath would be making an important announcement on Diwali day in Ayodhya during the festive celebration. There are reports that Yogi may announce the installation of Lord Ram's statue in Ayodhya, its location and specifications. This could be a political masterstroke.
The title dispute over Ram Janmabhoomi is still pending in the Supreme Court. The apex court has postponed the hearing to January, and there is no definite time frame when the verdict would be delivered. This has caused unease and impatience in the minds of devotees who desire to see the early construction of a grand temple at Lord Ram's birthplace.
Already political slugfests have begun over the temple issue, and Yogi's announcement could be timely. It could provide temporary relief to the devotees of Lord Ram. This could be a good symbolic beginning towards building of Ram temple in Ayodhya.
On Friday in Mumbai, the RSS general secretary Bhaiyyaji Joshi, at the end of a 3-day meeting of RSS front organisation heads, clearly said that the postponement of hearing on Ayodhya issue in Supreme Court to January has caused disquiet in the minds of devotees of Lord Ram. "We had expected a verdict before Diwali, and the court should have taken into consideration the sentiments of Hindus before adjourning the matter to January", he said. Joshi added that the Centre had power to issue an ordinance to build the temple, and if the dispute lingered on, it could trigger a 1992-type agitation in Ayodhya.
The problem lies with the politicians. Every politician, big or small, is looking at each other on the temple issue. While the Congress says it supported the building of Ram temple but would wait for the apex court's verdict, BJP says it is ready to bring an ordinance, but the bill has to be supported by the Congress in Parliament. Shiv Sena chief Uddhav Thackeray says, it had been demanding the construction of Ram temple since long, but the Centre did not take any concrete step in the last four and a half years. Questons may be asked of Uddhav Thackeray why his party remained silent on the issue all these years.
The Ayodhya dispute has been a bone of contention between Hindus and Muslims for the last 500 years, and for the last 150 years, the dispute has been lying in courts. The people cannot wait any longer. A decision has to come, whether from the court, or from the government.
Click Here to Watch Full Video | Get connected on Twitter, Instagram & Facebook