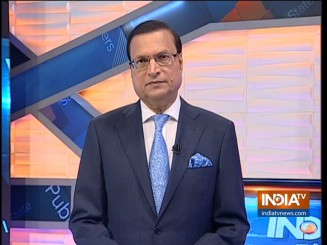 India TV on Monday night in its show 'Aaj Ki Baat' gave details of how terror fugitive Dawood Ibrahim has shifted from Karachi and is now staying in an ISI safe house in Rawalpindi, Pakistan.These and all other info are being shared by Indian agencies with two senior FBI officials from USA, who are presently in New Delhi to assist the government in extraditing the underworld don.
India's case is that Dawood Ibrahim and Hizbul Mujahideen chief Syed Salahuddin are of Indian origin, and they can be put on trial only in Indian courts, unlike Lashkar-e-Toiba chief Hafiz Saeed and Jaish-e-Mohammed chief Maulana Masood Azhar, who are of Pakistani origin.
A 280-page dossier on Dawood Ibrahim has been prepared and shown to FBI officials, according to this report. Dawood is wanted in 1993 Mumbai bomb blasts and several other terror attacks. India will hand over this dossier to the Pakistani High Commissioner in Delhi and demand that Dawood be extradited. The underworld don is now 64 years old, and he has undergone major plastic surgery. A sketch of Dawood based on his last known photographs has been prepared.
FBI has been told by Indian agencies that Dawood may have become old but his 'D company' is still active and he is helping Jaish-e-Mohammed in setting up 'sleeper cells' inside India. Indian agencies have given numbers and details of at least five passports issued by Pakistan to Dawood under assumed names. Addresses and details of Dawood's residences in Karachi have also been shared in this dossier.
India and the US are presently engaged in intelligence sharing to counter terrorism, and the Indian government hopes that the US would exert pressure on Pakistan government to hand over India's most wanted criminal.
Click Here to Watch Full Video  | Get connected on Twitter, Instagram & Facebook