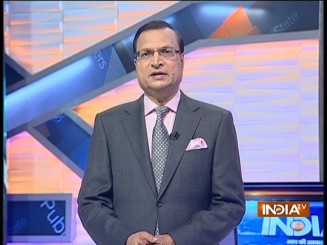 The huge crowds that turned out at the funerals of two Kashmiri policemen, Babar Ahmad Khan and Mushtaq Ahmed on Tuesday evening after the terrorist attack on a Srinagar hospital highlights the common man's anger against Pakistan-sponsored terrorism. The two policemen alongwith their colleague were escorting six militants to SMHS Hospital for a medical checkup, when terrorists struck. One Pakistani terrorist Mohammed Naveed Jhatt alias Abu Hinzala, escaped with the attackers. Naveed was one of the commanders of Lashkar-e-Toiba in the valley. He had come from Pakistan to foment violence.
We should salute the courage of Jammu and Kashmir policemen who foiled the terrorists' plan to carry out mayhem inside the hospital. The information about the terrorists being escorted for medical checkup was somewhat leaked, and the attackers were waiting for them to arrive at the hospital. Nobody had imagined that terrorists would target a hospital.
In my Aaj Ki Baat show on Tuesday night, I showed images of serving Pakistani armymen sneaking into the Valley in the guise of terrorists. Pakistan's role in fomenting terrorism in Kashmir has now become brazen. Pakistan army openly trains terrorists, sets up launch pads, and then push them into India under cover of firing at the Line Of Control. Even US President Donald Trump has realized that the Pakistan army is openly backing terrorists both on its Afghan and Indian borders. He has consequently stopped payment of US funds to Pakistan because of its role in fomenting terrorism. Pakistan has openly set up 'factories' that are rolling out terrorists who are spreading violence and mayhem in both Afghanistan and India. It is now time that the world wakes up to this fact and take corrective measures against this failed state.
Click Here to  Watch Video | Get connected on Twitter & Facebook