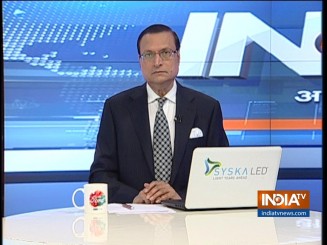 It is with a deep sense of grief and sorrow that I pen these lines. There is outrage across the nation over the suicide attack in Kashmir that took the lives of 44 CRPF jawans sitting inside a bus. The nation stands with the families of martyrs in their hour of grief. A grieving nation expects Prime Minister Narendra Modi's government to take revenge against the perpetrators of this heinous act. Our Prime Minister has clearly said today that neighbouring Pakistan has made the biggest mistake and our army has been given full freedom to strike back at a time and place of its own choice. Modi has said, "sacrifices of our martyrs will not be in vain, and the perpetrators of this heinous attack will be given an unforgettable lesson".
Already, after the meeting of Cabinet Committee on Security, the government has decided to withdraw MFN (Most Favoured Nation) rights from Pakistan with immediate effect. The Pakistani High Commissioner in India has been summoned by Ministry of External Affairs and a tought message will be conveyed.
Let me tell what happened on Thursday afternoon in Kashmir valley. Our CRPF jawans were going in a massive convoy from Jammu to Srinagar after the reopening of the highway after a spell of snow. There were 2547 CRPF jawans in 78 vehicles, and they were hardly 30 km away from Srinagar, when the suicide bomber struck. He drove an SUV laden with large amount of explosives and rammed into a CRPF bus, blowing it and his own vehicle into bits. Later, Jaish-e-Mohammed, the terror outfit led by Masood Azhar claimed responsibility for this attack. Masood Azhar and his cohorts are based in Pakistan, helped and trained by ISI, the Pakistani spy agency.
Jaish had prepared a video showing the suicide bomber Adil Ahmed Dar, a youth from Pulwama, declaring his intention to strike The video was released within minutes of the attack on social media. India TV has shown a letter from Intelligence Bureau sent on February 8 to DIGs of CRPF in both North and South Kashmir in which it was clearly said that terrorists could target their convoys with improvised explosive device (IED). The letter was shared with district SSPs in which information was given about an explosive expert of Jaish, Abdul Rashid Ghazi, who had entered Pulwama with two of his associates.
Already the National Investigation Agency has begun to probe as to how the attack took place. The entire nation is in mourning and there is clamour for taking revenge against Pakistan. The common man in the street wants our armed forces to give Pakistan a befitting reply. To predict what the armed forces will do can be a bit premature. Our army prepares its own plan so that it can be execute with precision at a time and place of its own choice, like it did when it carried out a surgical strike soon after the Uri terror attack.
The martyrdom of our jawans will not go in vain. Burying all our political differences, we should focus on how to repay Pakistan back in its own coin. If we fail to take action now, our future generations will never forgive us.
Click Here to  Watch Full Video | Get connected on Twitter, Instagram & Facebook