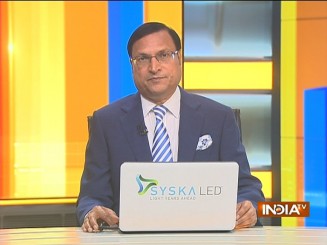 With the 24-hour deadline to hand over 'terrorists' hiding in former Pakistan PM Imran Khan's Lahore residence in Zaman Park over, the stage is set for an army-led operation to storm the place. Punjab Police, Rangers and other security personnel waited for the Friday prayers to be over, before entering the former PM's residence. The entire locality has been surrounded and all roads leading to Zaman Park have been closed to public. Meanwhile, a nationwide crackdown is going in with police nabbing all leaders, activists and supporters of Imran Khan's party Tehreek-i-Insaaf. Meanwhile, the courts have granted bail to Imran Khan in all cases related to May 9 violence. Sources said, PM Shahbaz Sharif's government offered Imran Khan the option to either take a safe passage and leave Pakistan, or face action under Army Act. Imran Khan said, he was ready to negotiate about holding general elections , but at the same time, made it clear that no talks are going on in that direction, as of now. The former PM is facing a huge crisis, with most of his party leaders and activists deserting him to avoid police and army action. Imran Khan has alleged that the army and government are trying to decimate his party. Watching the fast-paced developments in Pakistan, it seems the army and government have made up their mind not to give Imran Khan any more chance. The establishment wants either Imran Khan to leave Pakistan immediately, or cool his heels inside jail. This has been the norm for past rulers in Pakistan. General Ayub Khan, after the military coup in 1958, forced Pakistan's first President Iskander Mirza to quit the country. Mirza had to go to the UK and was buried in Iran in 1969. Among other leaders, Benazir Bhutto, Asif Ali Zardari, Nawaz Sharif and Gen Pervez Musharraf had to leave Pakistan and settle abroad. Nawaz Sharif is still in London. Asking Imran Khan to quit Pakistan is not new. Imran Khan has been saying that he was not going to leave Pakistan, at any cost. For Imran Khan, it is now a choice between the cauldron and the fire. Shahbaz Sharif's formula is quite clear. The establishment wants to intimidate Imran's supporters citing violent attacks on army installations on May 9. This action will prevent the masses from coming out on the streets in support of Imran. Secondly, top leaders of Imran's party are now being arrested, creating panic in the second line ranks. The establishment wants that once Imran Khan finds himself isolated, he could be intimidated to leave Pakistan under threat of being arraigned before an army court. If he refuses, he will be jailed and will face sedition charges before an army court. Already, five army courts have been set up to prosecute the offenders of May 9 violence. The government and the army are working in this direction. Imran Khan is facing a déjà vu with a difference. In the past, he had punished Nawaz Sharif and his relatives and supporters, with the help of the army, and now Nawaz Sharif's brother is repaying him in the same coin, with the help of the army, of course. In Pakistan, the script remains the same, only the actors change.
GOVERNMENT FORMATION IN KARNATAKA
Karnataka will have its Congress government on May 20 with a grand swearing-in ceremony at Sree Kantirava stadium, Bengaluru. Both the CM-designate Siddaramaiah and Deputy CM-designate D K Shivakumar met with senior party leadership on Friday to finalize the list of ministers. They met the Governor Thawar Chand Gehlot on Thursday night and staked claim to form the government. This is the first big victory for Congress in Karnataka since 1989. The party has won absolute majority and there are indications that the government will remain stable. The people of the state have much expectations, as every community voted for the Congress. Leaders from different communities expect to get their due share in governance. G. Parameshwar, a Dalit leader, is seeking proper representation for Dalits in the government. M.B.Patil belongs to Lingayat community, and he wants that the community must get due respect in government. Most of the Muslim voters voted en bloc for Congress this time, and their leaders, too, want a good representation. Lok Sabha elections are due next year, and the Congress will try to keep all sections happy. For Chief Minister Siddaramaiah, the path will not be easy. First, he has to fulfil the "five guarantees" that the party gave in its manifesto. The real test will now come after the government formation is over. Secondly, the oath taking ceremony will be used by the Congress to display unity in anti-Modi front. I remember, when H D Kumaraswamy was sworn in as head of JD(S)-Congress coalition government five years ago in 2018, Sonia Gandhi, Mamata Banerjee, Mayawati, Akhilesh Yadav, N Chandrababu Naidu, K Chandrasekhar Rao, Arvind Kejriwal and Dr Farooq Abdullah were present on the dais. This time, too, most of these leaders will be present.
GEHLOT VERSUS PILOT IN RAJASTHAN
Supporters of Rajasthan chief minister Ashok Gehlot and dissident leader Sachin Pilot came to blows at a meeting in Ajmer on Thursday. Slogans were raised and the two camps exchanged blows. These supporters had gathered at a meeting where co-incharge of Rajasthan Amrita Dhawan had gone to collected feedback from district level leaders. Gehlot's associate Ramchandra Chaudhary and Dharmendra Rathore reached the venue with their supporters and occupied the front row. When Pilot's supporter Mahendra Singh Ralawata came with his supporters, they were stopped from entering, leading to quarrel. The situation went out of control, and both sides exchanged blows. Not a single top leader from Congress was present. In Jaipur, supporters of chief minister Ashok Gehlot changed slogan 'I Love You Gehlot'. This was an imitation of Pilot's supporters chanting the slogan 'I Love You Sachin Pilot'. Both sides are engaged in showing off their clout. Senior Congress leaders know that if Gehlot and Pilot camps continue to fight each other, it could be difficult for the party to retain power in the Rajasthan assembly polls due by the end of this year. Five years ago, both the sides joined hands and brought the party to power, though it was a marginal victory, but now it's a question of ego for both leaders. Gehlot is unwilling to quit his chair, and Pilot is unwilling to wait anymore. Chances of a rapprochement appear to be bleak.