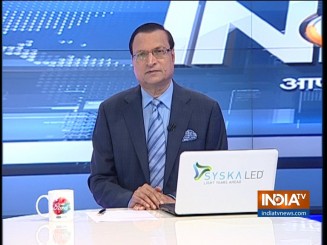 Kerala, popularly known as 'God's Own Country', has a tradition of bi-polar political preferences. The Congress-led United Democratic Front and the CPI(M)-led Left Democratic Front have been dominating the political landscape in Kerala since decades. BJP, which draws its support from RSS supporters, had not been able to win a single seat  in Lok Sabha from Kerala.
It is in this context that it is surprising to notice the huge turnout of voters at Prime Minister Narendra Modi's election rally in Thiruvananthapuram on Thursday evening. The crowd quietly listened to the Prime Minister's speech with occasional rounds of applause. There was a similar huge turnout last week in Kerala at Modi's rally. I spoke to several political pundits, who know about Kerala politics, and they too said the turnout was surprising. It means that the common voter in Kerala is keen to listen to Modi's views on Kerala and national politics.
The moot question is: Will this turnout translate into votes? Will the BJP in Kerala be able to open its account in Lok Sabha? The jury is still out.
Modi also addressed election rallies in Karnataka on Thursday. The Prime Minister has the knack of changing his topics that suits his audience, based on local sentiments. In Karnataka, he spoke of how the Karnataka JD(S)-Congress coalition government is wobbling and Chief Minister H D Kumaraswamy is facing lots of problems in running a coalition.
On the other hand, in Kerala, Modi spoke about the killings of BJP and RSS supporters, and told his audience how both the Congress and CPI(M) have been indulging in what he called "opportunism". Modi pointed out how these two camps are rivals in Kerala but support each other at the Centre.
I think, the huge turnouts at Modi's rallies in Kerala are indicative of a perceptive swing in the mood of common voters, and BJP may benefit from it.
Click Here to Watch Full Video | Get connected on Twitter, Instagram & Facebook