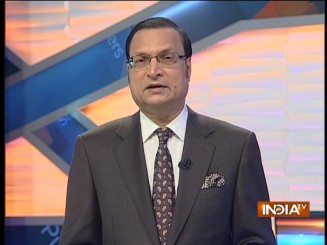 The National Capital Region of Delhi recorded the worst air quality of the season on Monday, with the Air Quality Index reaching 367, which is considered 'very poor'. This is the state of Delhi's air as of now, nine days before Diwali, when the atmosphere of the capital will be filled with unbearable, choking smoke with the bursting of millions of firecrackers.
India TV on Monday carried out a reality check across the NCR and found the air quality deteriorating. Ghaziabad reached an AQI of 430 (severe), Gurgaon reached 389, Noida 374 and Faridabad 358 (all very poor). A reading between 201 and 301 is treated as 'poor' on the AQI index set up by Central Pollution Control Board. Readings between 301 and 400 are classified as 'very severe' and those above 400 are treated as 'severe' with the maximum limit kept at 500.
To add to these woes, the number of crop stubble fires in Punjab and Haryana has shot up dramatically in the last two days. NASA satellite data predict that pollutants from crop stubble fires are likely to impact air quality in NCR over the next few days.
The Supreme Court on Monday directed transport departments of Delhi and neighbouring states to impound all 15-year-old petrol and 10-year-old diesel vehicles, after it was revealed by the amicus curiae that there has been 40 per cent increase in vehicular pollution in NCR. Vehicular pollution contributes 41 per cent to the overall air pollution in NCR, the apex court was told.
Experts say that the air quality in NCR is so toxic that on a rough average, a child inhales smoke equivalent to smoking 6.5 cigarettes. The air is so polluted that every day the average life of a citizen living in NCR gets reduced by two and a half hours.
Even as the judiciary and executive are trying to find out means to tackle air pollution, companies selling air purifies and masks are raking in the moolah. Air purifiers are being sold anywhere from Rs 12,000 to Rs 1,30,000, but India TV reality checks showed these air purifies are useless considering the level of air quality.
I would like to share a simple step to tackle air pollution at home. A research was conducted in IIT Kanpur on three plants –
Areca palm (also known as living room plant) which absorbs formaldehyde and carbon monoxide and gives out fresh air,
Mother in law tongue plant (also known as snake plant or bedroom plant) which can convert carbon dioxide into oxygen even at night, and
Money plant, which absorbs most of the toxins from air and provides fresh air.
One may not be able to tackle air pollution in this megapolis, but use of these easily available plants at home can give people at least a breath of fresh air in their domestic environs. Widespread use of these plants can also help in reducing air pollution in the city to some extent.
Click Here to Watch Full Video | Get connected on Twitter, Instagram & Facebook