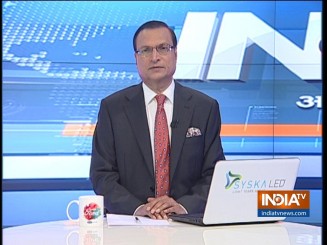 On Tuesday, Congress president Rahul Gandhi, without any prior appointment, called on the ailing Goa chief minister Manohar Parrikar to enquire about his health, stayed for five minutes and left for Kochi, where, hours later, he told a gathering of party workers that Parrikar has clearly stated that he had no knowledge and he had nothing to do with the new Rafale aircraft deal.
An angry Parrikar then shot off a letter to Rahul Gandhi stating that Rafale deal was not at all discussed with him during his brief meeting. He wrote "paying a courtesy visit and then stooping so low as to make a false statement for petty political gain has raised in my mind questions about the sincerity and purpose of your visit itself". Late Wednesday evening, Rahul Gandhi sent a letter to Manohar Parrikar clarifying that his references were drawn "from political domain and not from their meeting".
Rahul may have thought that Parrikar, undergoing treatment for pancreatic cancer, would not react, but the Goa chief minister immediately wrote the letter and released it to the media, in order to put the record straight. Parrikar also wrote that he would continue to work for the people of Goa and India till his last breath. The Goa CM surely deserves praise for his forthrightness. We should all pray for his early recovery, but what Rahul did was unpardonable.
This is not the first time that Rahul Gandhi has made misleading statements. One should remember how Rahul stood in Lok Sabha and claimed that he had met the French President and the latter had clarified that there was no secrecy clause relating to pricing in the Rafale contract, but the very next day, the French President refuted his statement as incorrect.
Similarly, Rahul Gandhi had secretly met the Chinese ambassador in Delhi at a time when Indian army was in an eyeball-to-eyeball standoff against Chinese troops in Dokalam. His party spokespersons initially claimed that there was no such meeting, but when pictures of the meeting appeared in the media, the lie was exposed.
Rahul Gandhi had gone on a pilgrimage to Mount Kailash near Mansarovar in Tibet, and he had then claimed that he had no meeting with any Chinese minister. A few days ago, Rahul himself admitted in a meeting in Odisha that he did meet Chinese ministers during his Mansarovar trip.
Such misleading statements can be accepted and ignored in the rough and tumble of day-to-day politics, but what Rahul said after meeting Manohar Parrikar was unpardonable, to say the least. To seek political gain out of a courtesy call on an ailing politician goes against the principles of morality and civility.
Click Here to  Watch Full Video | Get connected on Twitter, Instagram & Facebook