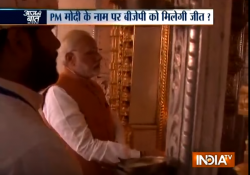 Prime Minister Narendra Modi on Monday launched his election campaign in Gujarat addressing four rallies. Judging by the crowds at these rallies, BJP poll managers seem to be confident about the assembly poll outcome.
In Hindi, there is a proverb: a goldsmith uses his small hammer a hundred times to beat a metal, while a blacksmith uses his hammer only once. Congress leader Rahul Gandhi had made six trips so far in Gujarat. He had levelled many charges against Prime Minister Modi and his government. Rahul describes Modi government as anti-farmer. He also alleged that Modi had been favouring a handful of industrialists. He also criticized the government on issues like GST and demonetization. Prime Minister Modi remained silent for the last two months. He did not respond to these charges. But, on Monday, Modi turned the tables on Rahul Gandhi. He raised issues which touched the sentiments of Gujaratis. It will be difficult for Congress to reply to Modi's charges.
So far, the Congress tried its best not to make the poll campaign in Gujarat, a Modi versus Rahul battle, but on Monday, Modi demolished their strategy. The Prime Minister described all charges levelled by Congress as allegations levelled against Modi. And the Congress is now searching for answers to counter the Modi juggernaut.
Click Here for the Video