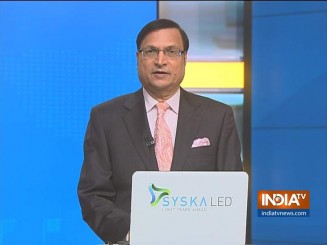 A major Pulwama-style terror attack was averted on Thursday in Kashmir when Indian army jawans seized 52 kg explosives from Jaish-e-Muhammad terrorists in Karewa near Gadikal area. The explosives were hidden in 416 packets and were kept submerged inside two water tanks. Army sources said that the explosive packets were distributed through overground workers in the Valley by terrorists with a plan to use them to carry out a major attack in Pulwama.
In a joint search operation by J&K Police, army and CRPF in Gadikal near Avantipora, the explosive packets were seized during a raid. These were kept inside two big 250 litre plastic tanks in a plant nursery near a forest. Our jawans went inside the underground plastic water tanks and found 416 packets, each packet containing 125 grams of explosives. Nearly 50 detonators were found hidden inside the other plastic water tank.
The explosives are called Super-90 or S-90 in short. It may be recalled that 40 CRPF jawans were martyred in a suicide attack by a terrorist in February last year in Pulwama, which caused nationwide outrage. Indian Air Force had to bomb terrorist hideouts in Balakot inside Pakistan in retaliation.
Chief of Defence Staff Gen. Bipin Rawat had cautioned a few days ago that Pakistan may try to carry out a big terror attack inside India in order to help China in the latter's ongoing military standoff against India in Ladakh. This plot to carry out another Pulwama-style attack appears to be part of that strategy. The spot where the explosives were found on Thursday was close to the National Highway and nearly nine kilometre away from the spot where the Pulwama suicide attack took place last year.
Gen. Bipin Rawat's words seem to be prophetic. Had the terrorists managed to carry out another major attack on Indian army convoy, India would have been forced to retaliate like it did in Balakot. Pakistan is bent on carrying out provocation, in order to start a "second front" against India to help its "iron friend" China. The Army chief Gen. M. M. Narwane was in Srinagar on Thursday to assess the preparedness of our forces on the Line of Control.
Come what may, if Pakistan provokes a conflict, Indian armed forces have the capability to fight simultaneously on two fronts in order to protect national sovereignty and territorial integrity. The morale of our armed forces is high. Our Defence Minister Rajnath Singh told the Rajya Sabha on Thursday that no power on earth can stop our army from patrolling near the Line of Actual Control. He has said that our forces are capable of repelling misadventure on part of Chinese army in Ladakh. Our troops are in a state of full preparedness both near the LAC and LoC.