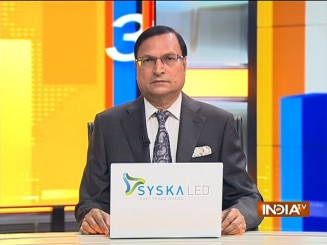 In a major setback to the opposition, the Supreme Court on Wednesday refused to entertain a joint petition signed by 14 opposition parties, including Congress, SP, NCP, RJD, JD(U), DMK, TMC, BRS, AAP, JMM, Shiv Sena (Uddhav), Left parties, National Conference, seeking stringent guidelines to be followed before arrests of political leaders by CBI and ED. The bench of Chief Justice D Y Chandrachud and J B Pardiwala said, "You (political parties) say there is selective targeting of opposition leaders, but at the same time, you say you do not want any special treatment for politicians. Then, how can we lay down guidelines saying if it is not murder, assault or child sexual abuse, no politician should be arrested?" The apex court clearly said, "once we accept that political leaders stand absolutely on the same footing as citizens of the country, they will face the same due process of law". The bench clearly said, 'the answer to this must be found in the political space and not in court'. Finding the court's objections strong, the advocate for opposition parties Abhishek Manu Singhvi withdrew the petition. While Congress and other parties put up a brave face and said they would study the matter deeply, AIMIM chief Asaduddin Owaisi said, "opposition had adopted a wrong method, they should not have approached the apex court… You cannot do politics like this against BJP, especially when Modi is leading it." Owaisi is a barrister and he knows what he is saying. No court in the world can give immunity from arrest to politicians, nor can it order immediate bail for them after arrest, and even if bail is not granted, it cannot send politicians to house arrest instead of jail. No court on earth can issue such an order. The petition itself was erroneous. It was filed by 14 political parties, and it did not read like a petition. There is difference between a petition and a political speech. Opposition parties wanted the Supreme Court to fight their political battle against Modi. Abhishek Manu Singhvi is a senior advocate. I am surprised how he even thought that the apex court would hear such an erroneous petition, because no specific cases were mentioned. For the last nine years, opposition parties have been alleging that Modi is misusing CBI and ED against them to win elections. Most of these opposition leaders felt, since it was difficult to defeat Modi in elections, they could try their luck with Supreme Court by filing a joint petition. Had the Supreme Court agreed to hear their petition, it could have become a major ground for launching an attack on Modi, but the apex court refused to entertain, and plainly told them that the court is not a ground for political battles, and leaders should fight their political battles outside. The opposition gambit failed completely, and it will surely going to cause political loss. BJP will now go to town and say that corrupt and worried politicians went to apex court but failed to get relief. It will become difficult for opposition parties to reply to their voters.
MAMATA, NITISH POLITICS OVER BENGAL, BIHAR RIOTS
While Nitish Kumar and Tejashwi Yadav are blaming BJP for recent violence in Bihar, BJP on Wednesday alleged in the state assembly that rioters are still roaming scot-free and have not been arrested. Leaving politics aside, the ground realities are surprising. In Nalanda, the FIRs filed by the police circle officer and BDO are conflicting. CO Dharmendra Pandit in his FIR wrote that when the Ramnavami procession reached 'qabristan'(graveyard), some Muslims incited others and soon afterwards, stoning and arson began. In the other FIR filed by BDO Anjan Dutta, it has been alleged that those taking part in Ramnavami procession were violent, they were shouting provocative slogans, and after speaking to some persons on phone, stoning and arson began. Officials from a single riot-hit area are giving two contradictory versions. Though the Nalanda SP Ashok Mishra has promised action against rioters, it is surprising how officials have filed two contradictory FIRs. One blamed the Hindus, while the other blamed Muslims. It seems, chief minister Nitish Kumar has been informed about only one FIR in which Hindus have been blamed. Now senior officials have begun saying that all call detail records in that area will be checked and the instigators will be nabbed. Nitish Kumar is out to prove BJP hand behind Bihar riots in order to polarize voters. The same allegation has also been made by CM Mamata Banerjee in West Bengal. Already there are many videos circulating that clearly show the faces of stone pelters in Howrah and Hooghly. The statistics of arrests of people from both communities are glaring. BJP leaders are blaming 'Muslim appeasement' on part of Mamata and her party leaders. It is now Mamata Banerjee's responsibility to explain to the people of Bengal that impartial action is being taken against rioters. The problem is: Mamata's focus at the moment is not on police action, but on politics. Both Mamata and Nitish Kumar are out to prove that it is the BJP that instigated riots in both states. Their aim is to create a sense of fear among Muslims, and in the process, also garner Hindu votes.