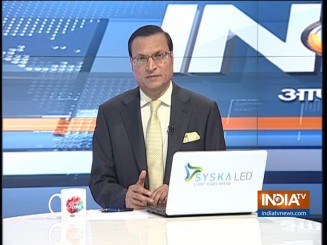 On the last day of electioneering in violence-prone West Bengal, people at her rally were amused to find Chief Minister Mamata Banerjee chanting Durga Stuti shlokas, Allahu Akbar, God is great and Buddham Sharanam Gachhami, only to underscore the point that she is not appeasing Muslims alone. She was, in other words, projecting her so-called secular credentials.
Mamata Banerjee fears that Bengali Hindus may shy away from voting for Trinamool Congress, given the fact that her police had arrested BJP supporters chanting 'Jai Shri Ram'. Mamata's government had also put curbs on Durga idols immersion timings because it had clashed with Mohurram processions. Her government had refused permission for Ram Navami processions.
BJP leaders led by Amit Shah and Yogi Adityanath went to town during the election campaign, alleging that Mamata Banerjee was anti-Hindu. Amit Shah even went to the extent of chanting Jai Shri Ram and dared the local police to arrest him. Yogi Adityanath also chanted Jai Shri Ram in all his rallies in Bengal, putting TMC leaders on the backfoot.
BJP leaders, including Prime Minister Narendra Modi, had been raising the issue of illegal Muslim immigrants from neighbouring Bangladesh and have promised to implement the Citizenship Amendment Act which provides for granting citizenship to all Hindu, Sikh, Buddhist and Christian migrants (except Muslims) who have fled from Pakistan, Bangladesh and Afghanistan.
Both the Left Front and Congress are now absent from the political scene in Bengal, and BJP has emerged as the main rival to Trinamool Congress. Mamata has now become jittery as she fears that Bengali Hindus may desert her in large numbers during elections. She has been using words like "goonda", "jhootha" for Prime Minister Narendra Modi and Amit Shah. She has been raising slogans of 'Chowkidar Chor Hai' at her rallies.
I have never seen Mamata Banerjee so aggressive in the last ten years. Before she came to power, she used to chant slogans like "CPM Hatao, Bengal Bachao". Now her slogan is "Modi Hatao, Bengal Bachao". It was she who singlehandedly fought the Left Front and dislodged it from power after 34 years of uninterrupted rule.
As Chief Minister, Mamata Banerjee had been abstaining from chanting slogans like an Opposition leader all these years. However, during the current Lok Sabha elections, she has donned the role of a street fighter and an Opposition leader, as she fears that the challenge from Modi is very, very big.
Click Here to Watch Full Video| Get connected on Twitter, Instagram & Facebook