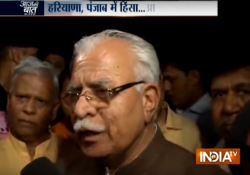 A rape survivor gets justice after fighting a powerful self-styled godman for 15 long years. At last, the real face of Gurmeet Ram Rahim has been exposed in the CBI court verdict. The baba will go to jail and serve his sentence, but the sad part is that thousands of his followers are so much blind and superstitious that they are unable to accept that their fake godman is a rapist. These followers have now turned to arson and lawlessness, throwing normal life in Haryana, Punjab and other neighbouring states in disarray. So long as these gullible followers live in our country, fake babas like Gurmeet Ram Rahim will continue to fool them.
In the wake of widespread arson committed by the baba's followers in Haryana, Punjab and Delhi, questions are now being raised over Haryana chief minister Manohar Lal Khattar's role.
The first question: why was such a huge crowd of over one lakh supporters allowed to assemble in Panchkula? Everybody knew what these supporters would do if the baba was convicted, they had swords, arms, diesel, petrol and lathis with them. This was not a marriage party. It was a crude show of strength by a powerful self-styled godman. Police and paramilitary forces were present, but the arsonists carried on their work with impunity, only because they were numerically stronger and were well-prepared. The chief minister must answer this question.
The second question is directed towards the supporters who had assembled to defend a rapist. Till yesterday, these supporters were claiming that their baba has taught them lessons of love and brotherhood, but the moment the judgment was announced, they resorted to stoning and arson. It is a crying shame that thousands gathered to support a rapist and created a reign of terror. Justice demands that the losses caused to properties by these hooligans must be compensated by attaching the properties of the billionaire self-styled godman.
Click Here for the Video