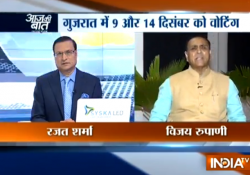 With the Election Commission announcing the election schedule for Gujarat, the stage is now set for an engrossing showdown between the ruling BJP and the main opposition party Congress. The hopes of Congress leaders rest on two factors: one, Narendra Modi is no more the chief minister of Gujarat, and leaders like Anandiben Patel and Vijay Rupani are not as strong and popular in countering the anti-incumbency factor, and two: the Congress, which finds itself weaker, is now relying on anti-BJP outfits like those of Hardik Patel, Alpesh Thakore and Jignesh Mewani. Talks are on with NCP too. The Congress gameplan is to unite all anti-BJP forces on a single platform to give a tough fight to the ruling party. On the other hand, BJP is relying on its vast organisational network and the charisma of Narendra Modi. It is also counting on the strength of 12 ex-Congress MLAs who recently joined the party. BJP had never registered a win from these 12 seats in the past.
Though Gujarat chief minister Vijay Rupani may claim that the contest is one-sided, I personally feel that BJP's position in Gujarat is not as strong as it used to be during Modi's rule. When Modi was ruling Gujarat, BJP seemed to be the only major party in the state, and one big reason for this was the personal charisma of Modi. The majority of the people of Gujarat trusted Modi, and the latter knows this too. That is why Prime Minister Modi has visited Gujarat five times in the last one month. He knows that the people of Gujarat will vote for BJP only because of him. Also, it will be wrong to assume that Congress is nowhere in the picture and that the agitating Patidars are now back in the BJP camp.
While BJP is going to seek votes in the name of development, it is also facing 22 years of anti-incumbency. For the first time in 22 years, BJP is going to fight without Modi as its chief ministerial candidate. Let's keep our fingers crossed and wait till December 18.
Watch Video | Follow On Twitter & Like Facebook Page