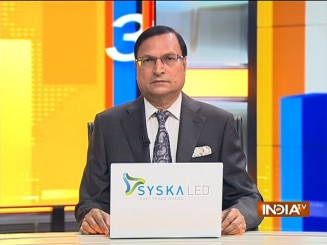 Gujarat is bracing up for a very severe cyclonic storm 'Biparjoy' (meaning disaster in Bengali) which is supposed to make a landfall by Thursday night at a maximum speed of 150 km per hour. As the cyclone nears Gujarat coast, parts of Saurashtra-Kutch region witnessed heavy rains on Wednesday. More than 34,000 people have been evacuated to safer places in Kutch, while nine towns have been completely shut down. BSF jawans are providing shelter to people in their border outposts in Kutch, while Bhuj airport has been closed till Friday. Sixty-nine trains have been cancelled and 33 trains have been short terminated. On Wednesday afternoon, the cyclone was centred 290 km west south-west of Dwarka and 280 km away from Jakhau port. The last severe cyclone that Gujarat witnessed was nearly 25 years ago, in 1998, when more than 100 people lost their lives amidst big devastation. The number of natural disasters has increased and their intensity has also increased. Earlier, cyclonic storms used to last for two to five days, but Cyclone Biparjoy, that rose from Arabian Sea six days ago, will continue to wreak havoc for ten days. An IIT Madras study says, cyclonic storms in Arabian Sea have started increasing due to global warming. In the last four decades, the duration of cyclonic storms has registered a 260 per cent increase. Global warming is not only causing cyclonic storms, but also unseasonal rains, snowfall, excessive heat wave and drought. The coastal city of Visakhapatnam in Andhra Pradesh has witnessed a maximum temperature of 43 degree Celsius, which is said to be the highest in the last 100 years. On Himalayan heights, snow sheets 45 feet deep were noticed this year, whereas in June, snow used to be hardly up to 30 feet. On one hand, cyclonic storms threaten both western and eastern coasts, and on the other hand, an orange heat wave alert has been issued for Delhi NCR, Punjab, Haryana, Andhra Pradesh, Bihar, Jharkhand, Chhattisgarh and Odisha. Snowfall has taken place in Himachal Pradesh and Uttarakhand. In a nutshell, India is witnessing cyclone, rains, snowfall and heatwave simultaneously in the month of June. This is due to global warming. Scientists have been warning about natural disasters due to global warming and it is time for governments to wake up and take notice.
INDIA DOES NOT NEED JACK DORSEY'S CERTIFICATE
India has described former Twitter CEO Jack Dorsey's allegation as "an outright lie" that the Modi government had threatened Twitter with shutdown and raids on its employees. "No one went to jail, nor was Twitter shut down", said Minister of State for Electronics and IT, Rajeev Chandrashekhar. The minister alleged that Twitter was not complying with Indian laws repeatedly from 2020 to 2022, during Dorsey's tenure. "Our focus was only on ensuring the compliance of Indian laws", he said. Opposition leaders from Congress, Aam Aadmi Party, Shiv Sena (UT) and NCP alleged that Dorsey's revelation has proved that the Modi government has been exerting pressure on Twitter to stifle freedom of expression. Let me put the record straight. First, Jack Dorsey is not so innocent as he seems to be. His role as CEO of Twitter during the US presidential elections in 2020 was partisan, and he had to face criticism. Secondly, to judge whether democratic values are alive or being crushed in India, does not need corroboration from a former CEO of an American company. If somebody insists on taking certificates from the US, one must hear what US President Joe Biden is going to say during Prime Minister Narendra Modi's US visit. Biden has invited Modi to a family dinner. Thirdly, Dorsey's comment comes at a time when India's Prime Minister will be going on a state visit to USA. This visit is going to be a historic one. Modi will be addressing the joint session of US Congress in Washington. A big defence deal between India and the US is in the works. This is not related to an individual, but it is linked to the prestige of our great nation. A former Twitter CEO's remarks must not cast a shadow on India-US relations. We must think about that. In an election year, sundry people are going to say things, but it would be better if we iron out our differences and quarrels, here in India. We must not allow Indian politics to become puppet in the hands of foreign forces. All of us will have to ensure this. Usually, it is our habit to consider any American or a British personality saying something about India as pure gospel. Since Jack Dorsey also alleged that Indian government tried to pressurize Twitter to block accounts related to farmer protests, farmer leaders like Rakesh Tikait have welcomed his remark.
HARYANA: FARMERS CALL OFF PROTEST
Protesting farmers, blocking the National Highway in Haryana for more than 33 hours, called off their protest on Tuesday evening after the Kurukshetra district administration assured them of "appropriate price" for purchase of sunflower seeds and release of farmer leader Gurnam Singh Chaduni and others who were arrested on June 6. It is good that Chief Minister Manohar Lal Khattar's government in Haryana has accepted the demands of farmers. But Rakesh Tikait and his followers are not going to give up. With Lok Sabha elections scheduled for next year, and assembly elections in Haryana early next year, Tikait finds this an opportune time to pile up pressure on the government. Another farmer leader Gurnam Singh Chaduni had declared his intentions to contest elections by forming a party. The farmers' protest seems to be a precursor to his poll preparations. In a nutshell, it is not farmers' interest but a plan to reap political harvest.