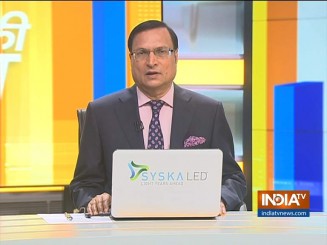 The Centre on Monday invited 40 farmers' unions for fresh round of talks to be held on Wednesday, saying that the government was committed to find logical solutions to matters that could be acceptable to all. By evening, the farmer leaders said that they found the wording of the invitation "vague" because, according to them, they had asked the government to come forward with "modalities for repealing" the three farm laws.
I am very much skeptical about the outcome of these talks because the farmer leaders have already decided on a plan to sabotage the talks. In their letter they had clearly sent their agenda demanding repeal of the laws. It is clear that the farmer leaders are unwilling to discuss amendments and they want all the three laws to be repealed. This means the talks are bound to fail, even before they begin.
The second point is: the farmer leaders had, in their letter, asked when the government would come forward with a legislation to enact minimum support price system and an ordinance on air quality maintenance in the National Capital Region. Here too, there is no scope for any middle path, because MSP is a purely administrative mechanism and was never enacted in the past. The Centre had gone to the extent of promising to give a written guarantee not to do away with MSP system.
Clearly, the letter sent by the farmer leaders does not, in any way, reflect their intention to seek a solution to the present impasse. Who are those who want that the talks should fail and the farmers should continue their 'dharna' on the outskirts of Delhi for another month?
On Monday, Agriculture Minister Narendra Singh Tomar alleged that anti-Modi forces had tried to corner the government on issues like Citizenship Amendment Act, Abolition of Triple Talaq and Abrogation of Article 370, but had failed, and they were now using the farmers as a shield in the name of opposing the three farm bills. "These anti-Modi forces want to create confusion in the minds of farmers", Tomar said.
Tomar is right. Opposition leaders, particularly from the Left, do not want the agitation to end. For the last 16 days, Left activists have blocked the National Highway between Delhi and Jaipur at Shahjahanpur in Rajasthan. Those blocking the highway are not farmers, they are Left party workers, holding red flags and banners and chanting objectionable slogans like "Modi Teri Qabr Khudegi" (Modi, your grave will be dug).
In my prime time show 'Aaj Ki Baat' on Monday night, we showed visuals of Left party cadres holding red flags, but suddenly wearing green caps and 'pagri', speaking about MSP issue. They are not farmers. They do not know a thing about minimum support prices, but on camera, were speaking lies about how they are losing out on MSPs.
These cadres have been trained to chant anti-Modi slogans, speak on farmers' issues before the camera, but in reality, they are not farmers. They have nothing to do with farming. When asked why as political workers they were donning robes of farmers, they replied they were farmers first, and political activists later. Even local farmers in and around Shahjahanpur are amused watching these "fake" farmers blocking the highway.
People are under the impression that those who are staging dharna at Singhu border and Tikri border on Delhi's outskirts are real farmers. I would like to tell them that most of them are also Left Front activists. Most of them have nothing to do with farming. Their agitation is controlled by Left front organizations. The only difference is that they do not use red flags on the outskirts of Delhi. There are elements from 'tukde-tukde' gang who have also infiltrated the ranks of farmers.
On Monday, an effigy of Prime Minister Modi was burnt at Singhu border. Suddenly a woman started beating the effigy with sandals and shouted obscenities about the Prime Minister. Asked by mediapersons, she revealed that her name was Shamim Chaudhary and she was a property dealer in Delhi, and had come there to express solidarity with farmers. Like her, there are many property dealers, 'adhatiyas' (middlemen) who are part of the agitation, and they are posing as farmers.
CPI(M) general secretary Sitaram Yechury said on Monday that his party extends support to the farmers, but none of their party workers are involved. This is a clear attempt to mislead, because his party leaders had been writing the script of the farmers' agitation for more than a month, and the party supremo is distancing himself and his party from the agitation.
There is nothing more to say how much truth there is in Yechury's remarks. He may be hoping for a peaceful solution, but his own party leader Hannan Mollah, leading the All India Kisan Sabha, is adamant that the agitation will be called off only if the three laws are repealed.
Nationalist Congress Party supremo Sharad Pawar came to Delhi on Monday and met Yechury. Pawar too said that his party supported the farmers' agitation but since the farmers have themselves decided to keep political parties away from the dais, his party has decided to keep a distance from the agitation.
Whether it is the Congress, the NCP or the CPI-M, all of them do not want the talks to succeed, they want the farmers' agitation to continue. Once the talks fail, the political parties will get a chance to come out in the open to target Modi.
Congress leader Rahul Gandhi has already left for a short vacation on New Year Eve to Italy leaving his party workers nonplussed. Three days ago, Rahul Gandhi had said outside Rashtrapati Bhavan that the farmers will not retrace their steps. He went on Twitter to write a song 'Veer Tum Badhe Chalo' (Warriors, march ahead) and himself left the country for a short vacation.
On Monday, the 135th foundation anniversary of Indian National Congress, Rahul was out of India on vacation, party chief Sonia Gandhi was not keeping good health, and it fell upon the octogenarian leader A. K. Antony to hoist the Congress flag at the party headquarters.
It may be easier for Rahul Gandhi to go on sudden foreign trips, but it is left to the party leaders to defend their leader and face the flak. It has also come to light that the party's claim of nearly 2 crore farmers signing a memorandum seeking repeal of the farm laws, submitted to the President by Rahul Gandhi, is without basis. India TV reporters spoke to Congress leaders, and they were completely in the dark about any campaign that was launched recently to seek signatures from farmers.
Enjoying holidays abroad may be Rahul Gandhi's personal matter, but it is surprising when he tweets from abroad asking farmers "to march forward". The party is continuously losing elections and there is no leader to show a way out. Sonia Gandhi is not in proper health and Rahul Gandhi neither shows the inclination to take up the responsibility of party chief, nor is he willing to hand over the reins to a capable leader. His single point program for the last six years has been to carry on with his anti-Modi campaign.
Farmers may be sitting on peaceful dharna on the outskirts of Delhi, but in Congress-ruled Punjab, anti-social elements have started vandalizing mobile phone towers in places like Mansa, Moga, Ferozepur and Taran Taran in order to target a particular mobile service provider. They disrupted power supply to 32 mobile towers, which, in turn, led to disconnection of services to 114 other towers. Till now, 433 mobile towers have been repaired and overall, 1536 towers have been repaired in the last few days. Punjab chief minister Capt. Amarinder Singh has asked police to take prompt action against anti-social elements masquerading as farmers.
Farmers have the right to protest and launch peaceful agitation, but any act of violence is unacceptable. They will lose the sympathy of common people if such acts of vandalism continues. If farmers want to campaign against Reliance Jio, let them do, but they cannot vandalize their mobile towers. Farmers from Punjab should know that it was Capt. Amarinder Singh who invited the Reliance group to invest in his state and had initiated contract farming.
Even Sharad Pawar and former PM Dr Manmohan Singh know that the new farm laws that provide for contract farming, abolition of stock limits and freedom of movement of foodgrains, will ultimately benefit the farmers. Both Pawar and Manmohan Singh tried to bring the same laws that Modi has enacted, but, in the past, they had to face stiff resistance from middlemen, who have vast financial resources. Most of the farmers are dependent on middlemen, and ultimately, the middlemen are calling the tune. At such times, even Leftists side with middlemen for their own advantage. No government in the past had the courage to push through these much needed agricultural reforms.
Narendra Modi is a different type of leader and he never flinches from taking risks. Whether it was demonetization, abrogation of Article 370 or Citizenship Amendment Act, he courageously took these steps. His political opponents tried their best to oppose and derail him, but did not succeed.
Compared to other political leaders in the past, Modi has two plus points that go in his favour: he has tremendous popular support and he has superb communication skills. People of India are confident that Modi will ultimately be able to convince the agitating farmers.
Modi is already on the job. On Monday, he launched the 100th Kisan Rail, a refrigerated train that carries fruits and vegetables from Mahrashtra to faraway Bengal. Farmers of Mahabaleshwar and Palghar are now growing strawberries, which are being transported by Kisan Rail to other states.
I think farmers from Punjab, Haryana and western UP, who are staging their sit-in in cold winter on the outskirts of Delhi, should introspect whether they are on the right path. They have been fooled by some political parties having vested interests and who have adopted double standards. They should at least give one year for these farm laws to be implemented, and then raise their voice, if they have grievances. Their lives will be changed forever if they follow the right path.