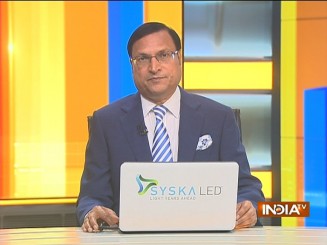 Pakistan is facing an acute flour crisis due to severe shortage, resulting in long queues outside subsidized food shops. At least four people have died in scuffles and stampedes in different parts of the country. In Sakrand town of Shaheed Benazirabad district of Sindh, a stampede broke out outside a flour mill, resulting in the death of three women.
In Mirpur Khas district of Sindh, a labourer was crushed by a crowd, after stampede broke out near a food department truck carrying bags of flour. People are clamouring for flour in Punjab, Khyber Pakhtoonkhwa, Sindh and Balochistan provinces. Most of the people, instead of going to work, are spending hours standing in queues to buy flour.
In my prime time show 'Aaj Ki Baat' on Tuesday night, we showed visuals of long queues outside a flour mill in Balochistan, and people running after trucks carrying flour bags. People are openly looting flour bags from trucks, resulting in fisticuffs and scuffles.
We showed visuals from Sakkhar in Sindh province, where people looted a flour bag from a man, despite his desperate pleas to save the lives of his children. People are sitting on pavements, weeping and blaming the government for this crisis. In Karachi, flour is being sold at Rs 140 to Rs 160 per kg, while in Islamabad and Peshawar a ten kg bag of flour is being sold for Rs 1,500 and 20 kg bag is being sold for Rs 2,800.
Mill owners in Punjab are selling at the rate of Rs 160 per kg. The price of a bag of 20 kg flour has touched Rs 3,100 in Khyber Pakhtoonkhwa, while in Balochistan, price of 'atta' has gone up to Rs 200 per kg. The government is trying to distribute flour at subsidized rates but it appears to be a drop in the ocean. People are desperate and ready to pay even Rs 200 per kg for flour.
Armed policemen have been deployed to guard trucks and flour mills from hordes of desperate people. In Peshawar, a local resident lay on the road in front of a truck carrying flour bags. He was demanding 'atta'. He was telling policemen he would rather like to die if he is not given flour. He was saying, "Kill us all, we don't want atta, run over your truck on our body. We don't want to remain alive and will not stand in queue for atta. Kill all of us."
Another female resident said, "our family is starving for atta for last three days. I had been buying atta for Rs 50 to Rs 100 to make bread. How can I protect my children?" The scene is the same everywhere, in Quetta, Multan, Jhang, Sialkot, Mirpur Khas, Hyderabad or Wazirabad. There are long queues of people everywhere.
The price of flour has doubled and trebled in the last few weeks. For a 10-kg atta bag, people are standing in queues from 20 to 24 hours. Mill owners are blaming the government for the shortage, while provincial governments are blaming Prime Minister Shehbaz Sharif's government for the crisis. Wheat production has been declining in Pakistan for the last several years. Wheat is being imported, but the government is unable to tide over the crisis.
Nawaz Sharif's Pakistan Muslim League (N) and Bilawal Bhutto Zardari's Pakistan People's Party are blaming former PM Imran Khan for this crisis. In Bannu town of KP province, a doctor put himself inside a cage at the town square as a mark of protest. He was saying that the common man is being exploited, whichever party is in power.
Pakistan's foreign exchange reserve is depleting fast, and the country has only $ 6.7 billion, hardly one week's foreign exchange to pay for imports. India's richest businessman Gautam Adani has assets which are worth 22 times compared to Pakistan's reserve. Mukesh Ambani's assets are worth 15 times Pakistan's foreign exchange reserve. Even China, Pakistan's trusted ally, has refused to give financial assistance.
Saudi Arabia and some other countries have already given loans, but Pakistan has no funds to repay the instalments. On Wednesday, finance minister Ishaq Dar revealed that almost 90 per cent of $10 billion help pledged by donors for flood-hit Pakistan at the Geneva conference hosted by the UN are in the form of project loans, that will be rolled over for the next three years. With Shehbaz Sharif sitting beside him, Dar said, $8.7 billion pledges are in the form of loans.
Pakistan's Army Chief Gen Syed Asim Munir met Prince Salman of Saudi Arabia and the UAE President in the past two days, seeking help, but no announcement was forthcoming. The most puzzling part is that there is no shortage of flour in the homes of any Pakistani politician or top bureaucrat. On one hand, their homes are hosting paratha, mutton, chicken and biryani parties, and on the other hand, the poor common Pakistani is starving.
It is really sad to see people crying for food in Pakistan. The governments of Pakistan, the political parties and the Army are all responsible for this sorry state of affairs. Since the time Pakistan was born, the governments spent more money on making weapons instead of building infrastructure. More money was spent on terrorism and for giving weapons to army, rather than on public welfare.
I was looking at some facts about Pakistan, which were truly surprising. Pakistan today is spending six times the money on defence compared to education. In Pakistan, most of the factories are being run, not by businessmen, but by the army. Army generals occupy thousands of acres of land. Most of the money in Pakistan is in the hands of either politicians or army officers. There lies the crux of the matter.