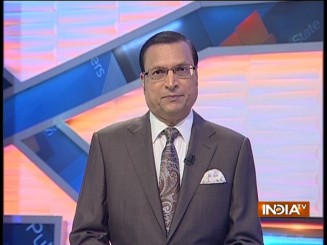 An estimated 25,000 farmers have staged a sit-in on Delhi-UP border at Ghaziabad since early Tuesday morning with a long list of demands. The Centre has agreed to most of their demands, which include filing a review petition against National Green Tribunal order banning 10-year-old diesel vehicles, including tractors, inside National Capital Region, asking GST Council to consider lowering prices of agricultural equipment, forming a panel on making insurance applicable to all crops and premium to be paid by government. The standoff is over the pending demands like waiving off farmers' loan, reducing diesel price for agricultural purpose, providing free electricity for tubewells, and granting monthly pension of Rs 5,000 to small and marginal farmers aged 60 and above.
The farmers have come prepared for a long haul. They have come in tractors loaded with foodstuff. They have staged a sit-in on NH-24 near Ghaziabad waiting to be allowed into the capital. On Tuesday, they clashed with police leaving several of them injured.
The farmers' demands may be genuine. They have the democratic right to stage protests, but the visuals of Tuesday's protests show a different picture. Some of the protesters used tractors to ram into barricades, and threw stones at the police. Such incidents could have taken a big toll, but it goes to the credit of police that they practised restraint, and resorted to lathi charge and teargas to disperse the protesters. Nobody will support such violent tactics.
I would also request daily commuters on this route to use alternate means to commute between Ghaziabad, Meerut and Delhi. Let's hope good sense prevail on the protesters and the sit-in is called off soon.
Click Here to Watch Full Video | Get connected on Twitter, Instagram & Facebook