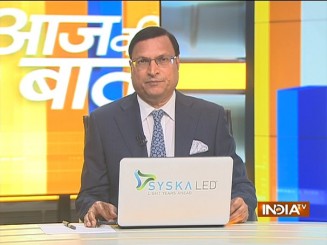 The Special MP-MLA court in Prayagraj on Tuesday held gangster-turned-politician Atiq Ahmed and two others guilty in Umesh Pal kidnapping case and sentenced all the three to life imprisonment. The court acquitted the remaining seven accused including Atiq's brother Khalid Azim alias Ashraf. On Monday, Atiq was brought in a police convoy to Naini jail after a 24-hour long, 1270 km journey by road from Sabarmati jail in Gujarat. There was apprehension that Atiq's van could overturn and he could be killed in an encounter, but UP police took all care in bringing him to Naini jail. Mafia don Atiq Ahmed is no ordinary criminal. He is the symbol of that dark age in UP, when gangsters used to get political protection and carry out murders, kidnappings, land grab, and went scot-free. These gangsters held sway over large swathes of UP for nearly four decades, no matter which party was in power. It was difficult to find witnesses and evidence against them. Governments changed, but these mafia dons ruled the roost. Policemen used to fear them. It was Yogi Adityanath as chief minister, who put an end to their crimes and went about to uproot these gangsters. He took twin-fold action. He jailed these gangsters, and at the same time, cut off their income line and razed their illegal properties using bulldozers. You will be surprised to know that Rs 1,168 crore worth properties belonging to Atiq Ahmed have either been attached or razed. Such firm action broke the back of criminal mafia gangs in UP. Yogi did not spare even those who were providing support to these gangsters. Even their properties were razed using bulldozers. Such action has instilled fear in the minds of criminals and the common man's faith in the system has been restored. 178 criminals were killed in encounters and more than 23,000 criminals were arrested. As a result, criminals feared entering UP. Hardcore criminal gangsters like Atiq Ahmed and Mukhtar Ansari, lodged in jails of other states, feared being brought to jail in UP. Such a sense of fear in the minds of mafia dons is good for the betterment of UP and its people. I think, driving fear in the minds of criminals is the biggest achievement of Yogi Adityanath.
RAHUL TO VACATE HIS BUNGALOW
Congress leader Rahul Gandhi has been asked to vacate his government bungalow at 12, Tughlak Lane, by April 22, following his disqualification from Lok Sabha membership. On Tuesday, Rahul wrote to the concerned official that "without prejudice to my rights, I shall abide by the details contained in your letter". Those who know Modi's policy on getting government bungalows vacated, should not be surprised over this order. Modi government did not show leniency to any MP, once he or she lost membership. From 2014 to 2015, nearly 200 former MPs had to vacate their accommodation within a week. After 2019 elections, MPs who lost, also had to vacate their accommodation. Ministers like Radhamohan Singh and Ramesh Pokhriyal Nishank, who were dropped from the cabinet, had to vacate large bungalows normally allotted to ministers. Earlier governments used to use this a tool for granting political favour. Top leaders, who lost elections, used to occupy bungalows for many years. Some of them retained their bungalows on ground of security, some paid market rent, and some got their bungalows allotted in the name of another MP. Modi stopped this practice. Many former MPs were unhappy with Modi because of this. Lalu Prasad Yadav wanted to retain his bungalow, citing his medical condition, but he was no more MP. He wanted his bungalow be allotted to an MP belonging to his party. He tried hard to lobby, but failed. Chirag Paswan wanted to retain the bungalow where his father Late Ramvilas Paswan used to stay. When Ramvilas Paswan was no more MP, nobody tried to get his bungalow vacated, but Modi government did not show leniency. Late Ajit Singh's son Jayant Chaudhary wanted to retain the bungalow where once Chaudhary Charan Singh and Ajit Singh used to stay. But Modi government allotted the bungalow to somebody else. Not only opposition leaders, even former BJP minister Late Jaswant Singh also had to vacate his bungalow. Arun Jaitley and Sushma Swaraj led by example. They immediately vacated their bungalows once they were no more ministers, and shifted to their own houses. Both of them could have continued to stay in large government homes on account of seniority and health. But they preferred ethics over personal comfort. But supporters of Rahul Gandhi are bound to make it an issue. Modi's government is not going to grant any concession. I remember the time when Sitaram Kesri was Congress president and a staunch opponent of Atal Bihari Vajpayee. When Kesri ceased to be an MP, Vajpayee immediately allotted the bungalow to Kesri from freedom fighters' quota. Times have now changed. Whosoever may be the leader, belonging to whichever party, he or she will not get any concession during Modi's rule.
SHOULD GANDHI-NEHRU FAMILY BE ABOVE LAW?
On Monday, MPs belonging to Congress, DMK, Samajwadi party, JD(U), BRS, CPI)M), RJD, NCP, Muslims League, Trinamool Congress, Aam Aadmi Party, National Conference and Shiv Sena came to Parliament wearing black dress and demanded JPC probe into Adani issue. Congress MP Pramod Tiwari said, 'Rahul Gandhi is no common man, he comes from a family that fought for freedom and two Prime Ministers became martyrs, therefore any government decision about Rahul should be taken with care'. Union Minister Piyush Goyal responded, by asking, 'let Congress say that there should be a separate law for Gandhi-Nehru family and that Rahul should be above law'. BJP leaders know that Gandhi-Nehru family is the Achilles heel of Congress party. Congress leaders often cite the assassinations of two prime ministers from that family. There is nothing wrong in this. But when Congress leaders said that the martyrdoms from Gandhi-Nehru family must be kept in mind when a court gives its sentence, BJP leaders quickly pointed out that there were so many leaders who were sentenced by courts, some were disqualified from legislatures, but nobody raised a voice. While Gandhi-Nehru family has the legacy of martyrdom, there is also a long history associated with this family. It was during Congress rule that Lalu Prasad Yadav was sent to jail, disproportionate assets case was filed against Mulayam Singh Yadav, right to freedom of speech was curbed, judges of Supreme Court were superseded. So, raising the issue of legacy can be a double-edged sword for the Congress.
RAHUL INSULTING VEER SAVARKAR
A new issue has arisen over Veer Savarkar's legacy and his contribution to freedom struggle. Rahul Gandhi said at a press conference that 'I am not Savarkar, I am a Gandhi and Gandhis never apologize'. Rahul's dialogue sounded sweet to the ears of Congress leaders, but for Shiv Sena chief Uddhav Thackeray, it spells trouble. Uddhav, expressing anger, asked Rahul to refrain from insulting Savarkar. As a protest, Shiv Sena did not attend a dinner for opposition leaders hosted by Congress President Mallikarjun Kharge on Monday night. In the past, Rahul had described Veer Savarkar as 'maafi-veer' several times. Savarkar's family has filed defamation case against Rahul, and the latter had to appear in court. Those who have read history know, Savarkar was a great patriot. After his first arrest in London, when he was being brought in a ship to India, he jumped into the water, but was soon caught. For the next 25 years, Savarkar remained in British prisons, and he was given 'kaala paani' sentence and lodged in the Andaman Cellular Jail. Even today, tourists from mainland India flock to see the Andaman Cellular Jail where Savarkar was incarcerated by the British rulers. Later, as part of a strategy, Savarkar did write letters seeking clemency from the British. There can be dispute over this, but nobody should question his patriotism and loyalty to the nation. In Maharashtra, Savarkar is worshipped by people, and they cannot tolerate anybody insulting Savarkar. Shiv Sena, since the days of its founder Balasaheb Thackeray, used to consider Savarkar as an idol. In 2018, when Mani Shankar Aiyar blamed Savarkar for India's partition, an enraged Uddhav Thackeray said, 'if I get Rahul or Mani Shankar Aiyar, I will beat them with chappal'. Now the same Shiv Sena is an ally of Congress in Maha Vikas Aghadi. It is becoming difficult for Uddhav to tell the Maratha voters about his party's stand.