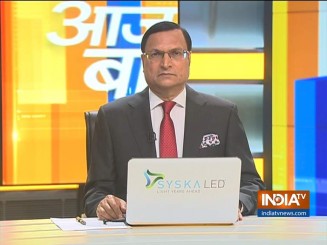 Indian army on Friday resorted to punitive assaults on Pakistani army's border posts, bunkers and fuel dumps across the Line of Control in Kashmir. This was in retaliation over unprovoked shelling at eight places by Pakistan resulting in the death of five army jawans and five civilians, including a woman, in several sectors. Late at night, Indian army sources said, eleven Pakistani soldiers were killed and sixteen others were injured in the retaliatory attacks.
Indian army sources alleged that Pakistani troops started shelling with heavy mortars and other weapons across the 778 kilometre long LOC, in Baramulla, Dawar, Keran, Uri and Nowgam sectors. This shelling was done to facilitate infiltration of Pakistan terrorists in Keran sector, which was foiled. In Poonch, five civilians were injured when Pakistani troops rained mortars in forward areas. Five civilians including two schoolgirls were injured in Pakistani shelling in Bandipora, army sources said.
On Friday, Indian army retaliated with 105 mm and 155 mm artillery guns, anti-tank guided missiles and heavy mortars to blow up Pakistani observation posts and bunkers. Several ammunition and fuel dumps and multiple terror launch pads were destroyed in the Indian attacks.
Army sources said, according to Pakistani radio intercepts, eleven Pakistani soldiers, including two or three Special Service Group commandos, who often take part in Border Action Team cross-LOC attacks were killed in Indian counter attack. Ten to twelve Pakistanis were injured, army sources said.
India TV in its prime time show 'Aaj Ki Baat' showed short video clips of the targeted fire assaults. The infiltration bid in Keran sector came five days after an Indian army captain, two jawans and a BSF constable were killed while trying to stop an intrusion attempt. On Friday, Pakistan started shelling from Uri to Keran sectors at several points and the Indian army gave them a befitting response, an army spokesperson said.
The Pakistani army has admitted that Indian troops shelled their posts in Neelum Valley, Jhelum Valley, Bagh Valley and Jhelum valley with artillery and heavy mortars, but tried to conceal the exact number of casualties, by giving meagre numbers.
The video clips released by Indian army clearly show Pakistani soldiers fleeing their posts out of fear, in the face of massive attacks by our brave jawans. At least twelve Pakistani border posts were destroyed in the Indian attack.
The message to Pakistan has clearly gone home: that India will retaliate heavily if Pakistan violates ceasefire rules. After four Indian jawans were martyred, the Indian army decided to repay Pakistan in its own coin, and used artillery guns and anti-tank guided missiles. This was done after Indian army recorded on camera the spots from where Pakistani troops were firing, and then made pinpointed attack on these enemy posts with artillery guns and guided missiles. Videos of women, children and men running for their lives during Pakistani shelling in the morning were also recorded.
Pakistan has committed 4,052 ceasefire violations in Kashmir this year till now compared to 3,233 ceasefire violations last year. As many as 20 civilians have died and 47 were injured on Indian side due to shelling.
Continuing the customary tradition of spending Diwali with jawans for the seventh year in a row, Prime Minister Narendra Modi on Saturday visited Longewala on Jaisalmer border in Rajasthan, accompanied by Chief of Defence Staff Gen Bipin Rawat, Army Chief Gen M M Narwane and BSF chief Rakesh Asthana.
Modi distributed Diwali sweets to jawans and met each one of them. The Prime Minister has appealed to all Indians to light a diya on Diwali night as a salute to our jawans. He tweeted: "This Diwali, let us also light a diya as a salute to soldiers who fearlessly protect our nation. Words can't do justice to the sense of gratitude we have for our soldiers for their exemplary courage. We are also grateful to the families of those on our borders."
Narendra Modi is the first Prime Minister who has been spending Diwali with jawans every year. When a Prime Minister stands among the jawans at the border, every jawan feels the might of 130 crore Indians who stand rock solid behind them. The army used to show exemplary courage and bravery in the past too, but these were hardly made public.
Modi has changed the lexicon. Our army and air force carry out surgical strikes inside enemy territory, blow up Pakistani bunkers and teach the enemy a lesson, and the videos of these attacks are made available to the general public. For the first time, our army has been telling the whole world, without concealing anything, how we have been teaching our enemies a lesson. We have been telling the world that we will retaliate if Pakistan does not cease ceasefire violations and terror attacks.
The question is: why is the Pakistani army so desperate? It has been unable to carry out any major infiltration of terrorists in the last one year. Whenever it provided cover firing to help terrorists infiltrate in Kashmir, our troops have retaliated heavily. The same thing happened on Friday, on the eve of Diwali.
Pakistan Prime Minister Imran Khan has been telling the whole world that India wants to trifurcate Pakistan into three parts. Already, the top military brass in Pakistan is feeling embarrassed after their own politicians revealed in Parliament that Pakistan had carried out the terror attack in Pulwama and its army generals decided to release Wing Commander Abhinandan after India threatened to attack. Pakistan had planned to derive advantage after India was locked in a standoff with China in Ladakh, but after reports came that China has agreed to withdraw its artillery and heavy armoured vehicles from forward areas, the Pakistani army establishment has become frustrated.
I think, the Pakistani establishment frequently forgets that it is Narendra Modi's India that it is dealing with. It must realize that India will retaliate heavily if it flagrantly violates ceasefire. It must know that Indian armed forces can strike deep inside Pakistan if it brazenly carries out a major terror attack.
I remember the famous song 'Ai Mere Watan Ke Logon' sung by Lata Mangeshkar and penned by the great lyricist Pradeep, and the lines "Jab desh me thi Diwali, who khel rahe the Holi, jab hum baithe the gharon me, who jhel rahe the goli". Come, let us all light a diya tonight as a mark of salute to the Indian jawans who are vigilantly guarding our frontiers. They are there to guard, so that we can sleep in peace.