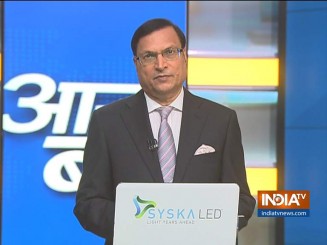 Armed with two truckloads of workers, a JCB machine and huge police 'bandobast', the Shiv Sena-run Brihanmumbai Municipal Corporation on Wednesday, in a swift blitzkrieg, demolished the office portions of actor Kangana Ranuat's bungalow in Pali Hill, Bandra, in the presence of a large media contingent. The demolition was carried out even as Kangana's lawyer Rizwan Siddiquee moved a petition for stay order before Bombay High Court.
By the time the High Court issued a stay order, the demolition work by the BMC was almost complete. Kangana's lawyer had approached the bench of Justice S J Kathawalia and Justice Riyaz Chagla, seeking immediate stay on "illegal, arbitrary and malafide" demolition. The whole nation watched the demolition work on TV news channels as BMC officials demolished most of the portions of Kangana's office adjoining her bungalow. By the time the High Court took up the matter for urgent hearing, Siddiquee said, 40 per cent of the premises was razed.
The Bombay High Court described BMC's demolition work as "highly deplorable". The high court said, "it is clear that the unauthorised works have not come up overnight. However, all of a sudden, the corporation appears to have woken up from its slumber, issued notice to the petitioner …when she is out of the state, directing her to respond within 24 hours, and not granting her any further time despite written request, and proceeding to demolish ….on completion of 24 hours."
The High Court added, "if the BMC would act with similar swiftness on the numerous unauthorised constructions in this city, it (Mumbai) would be a completely different place to live in."
On her return to Mumbai, Kangana Ranuat in a hard-hitting video message addressed Maharashtra chief minister Uddhav Thackeray as 'tu'(you) and said: "Uddhav Thackeray, tujhe kya lagta hai? That you colluded along with the film mafia, demolished my home and took revenge on me? My home was demolished today, your arrogance will crumble tomorrow. ..This is the wheel of time, remember, it never remains the same."
Kangana said: "You have done me a favour. I knew what Kashmiri Pandits had gone through, but I felt the same today. I vow before my country that I will make a film not only on Ayodhya, but also on Kashmir… I knew this would happen to me. This has some meaning. Uddhav Thackeray, this cruelty, this terror, it's good that this happened to me. Because it means something. Jai Hind, Jai Maharashtra."
Kangana was looking steely and furious in the video message on Wednesday. She had built her office with nice interior décor, but her dream office was demolished in a few hours by BMC men. The demolition began in the morning at approximately the same time when she left Mandi, Himachal Pradesh, en route Chandigarh, to take her flight to Mumbai. She was getting pictures of demolition on her phone almost every minute.
She then tweeted : "Come Udhav Thakeray and Karan Johar Gang you broke my work place come now break my house then break my face and body, I want world to see clearly what you anyway do underhand, whether I live or die I will expose you regardless." She also tweeted: "Today they have demolished my house tomorrow it will be yours, governments come and go when you normalise violent suppression of a voice it becomes the norm, today one person being burned at the stake tomorrow it will be jowhar of thousands,wake up now." "I am never wrong and my enemies prove again and again this is why my Mumbai is POK now"
At one point, she wrote along with demolition pictures: "Babur and his army". She also wrote: "My office was suddenly declared illegal in last 24 hours, they have destroyed everything inside including furniture and lights and now I am getting threats they will come to my house and break it as well,I am glad my judgement of movie mafia's favourite world's best CM was right."
There is not an iota of doubt that the demolition work done by BMC at Kangana's bungalow was an act of reprisal. BMC officials should hand their heads in shame over the strong observations made by Bombay High Court. Kangana had earlier threw a challenge to Shiv Sena over her "Mumbai seems to be POK" remark and had challenged them to do whatever they can. The Shiv Sena did it, it knew that Kangana would get a stay from the court. It was because of this that the BMC brought a huge police force to the bungalow and finished the demolition work within a few hours.
I have seen Kangana's beautiful bungalow and office that she built with much care and passion, particularly its interior decoration. BMC officials knew that whatever they were doing was in contravention of High Court's stay order. They tried their best to delay the hearing, so that the demolition could be completed at breakneck speed.
This has been Shiv Sena's style of taking revenge since long. The party was furious when Kangana personally attacked their supremo Uddhav Thackeray and they were raring to settle scores with her. They were more furious when Kangana compared Mumbai with Pak Occupied Kashmir. Shiv Sena leaders, at that time, remarked that had Balasaheb Thackeray been alive, he would not have allowed the actor to make such a remark. Since Shiv Sena is in power in a coalition government, it took up Kangana's remarks as a challenge and set out to demolish her office.
Kangana, on her part, should also have exercised restraint. Making remarks comparing the demolition with that of Babur, comparing Mumbai with POK, chanting Jai Shri Ram, and then addressing the state chief minister as "tu" (you), were too extreme. She could have responded with dignity and grace.
During former chief minister Devendra Fadnavis' BJP-Shiv Sena coalition rule, BMC had demolished a ramp outside Shahrukh Khan's Mannat bungalow, and demolition notices were given to Irrfan Khan and Kapil Sharma. It is true that BMC took these actions in the past and Kangana may have a political agenda, but Wednesday's sudden demolition with a bulldozer at Kangana's bungalow smacks of political revenge. This action was intended to settle personal scores and this does not augur well for democracy.