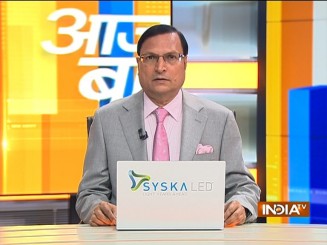 Indians across the world rejoiced on Monday when our film industry won two Oscar awards – one for Best Original Song and the other for Best Documentary Short film. The irresistibly catchy and popular Telugu film song 'Naatu Naatu', with its electrifying dance moves, from S. S. Rajamouli's movie 'RRR', was composed by M. M. Keeravaani. The dance song swept the audience, with actor Deepika Padukone making the introduction. The documentary 'The Elephant Whisperers', directed by Kartiki Gonsalves and produced by Guneet Monga, won the Oscar for its portrayal of a tribal family which adopted two orphan baby elephants in a Tamil Nadu forest reserve. Plaudits came in from Prime Minister Narendra Modi, and from all top-notch film celebrities for the Oscar winners. The Oscar award is considered the world's most prestigious film award. The twin awards have silenced those naysayers who have been cribbing about Indian films unable to win Oscars till date. The awards have also silenced those who were questioning why we give too much importance to Oscar awards. 'Naatu Naatu' means 'dance, dance' and it is a day to rejoice and dance. The dance sequence has a nice rhythm, wonderful choreography and Junior NTR and Ram Charan Teja won the hearts of people with their precise dance steps. More than 20 crore people across the world have watched this dance sequence dubbed in different languages. We in India should be happy that an Indian dance song has won encomiums crossing all bars of language. It once again proves dance, rhythm and music have no boundaries.
UPROAR IN PARLIAMENT
Parliament has been witnessing uproar for the last two days of the second phase of its Budget session. On the first day, Congress and other opposition parties stalled the proceedings demanding JPC probe into Adani issue, but BJP turned the tables by demanding unconditional apology from Rahul Gandhi for denigrating India on the issue of democracy. I think even Rahul Gandhi is very much aware that democracy continues to remain strong in India today. People in India are also aware that there is no ban on speech and expression, nor can anyone dare to impose such a ban. In 1975, Indira Gandhi had imposed censorship during Emergency, and the world has seen its consequences. The people of India uprooted the authoritarian regime during the general elections of 1977. No leader can now dare to curb freedom of speech and expression. Rahul Gandhi made a big blunder by saying in UK that democracy is under threat in India. He has given BJP a handle on which it can corner the Congress. Congress leaders along with other opposition leaders had put the Centre on defensive on Adani issue, but Rahul, by raising the issue of democracy, has allowed BJP to turn the tables. Leaders of other opposition parties are half-heartedly supporting Rahul on his 'democracy' remarks, while Congress is trying to hard to keep the Adani issue alive. As the main opposition, Congress has the right to create an atmosphere against Narendra Modi, but at the bourses, shares of Adani group companies have regained past losses. Adani group had announced on Sunday it has repaid $ 2.56 billion loan and it had a positive impact at the stock exchanges.
UDDHAV GETS A JOLT
Uddhav Thackeray, the embattled chief of Shiv Sena (Thackeray group) got a jolt when his close aide Subhash Desai's son Bhushan Desai joined the BJP on Monday. Subhash Desai is presently at No. 2 position in Uddhav Thackeray's party. Uddhav gives much importance to Subhash Desai's advice. Even if Uddhav's son Aditya Thackeray may say that the party has nothing to do with Subhash Desai's son, because there are corruption charges against him, such a logic has no basis. If Bhushan Desai was facing corruption charges, why was he not thrown out of Thackeray's party? Subhash Desai, in a statement, has said that his son was never in active politics, and therefore, it won't matter which party he joins. Subhash Desai says, his loyalty to Thackeray family will continue.