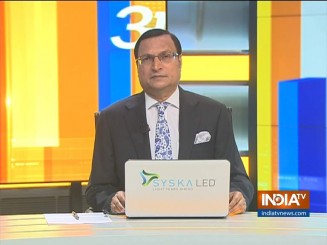 Cyclone 'Biparjoy' which lashed Kutch-Saurashtra region in Gujarat has left a trail of destruction with thousands of electricity poles damaged, nearly a thousand trees uprooted and residents of nearly 4,600 villages having their thatched houses damaged. State Relief Commissioner of Gujarat has said, till now, no human death has been reported. This has been possible due to timely arrangements made both by the central and state governments. The cyclonic storm has now moved towards southern Rajasthan. The full extent of losses will be known after conditions return to normal, since most parts of coastal region in Gujarat have no electricity. This region is known for its massive industrial activity, like oil refinery, industrial parks and big ports. 21 small and big ports in these districts had to be closed before the onset of cyclone. Work on offshore oil rigs has also come to a halt. Experts estimate the daily losses to economy due to ports at around Rs 500 crore. It will take time to return to normal operations, and yet, I feel, these losses are small compared to the huge threat that was posed by the severe cyclonic storm. Prime Minister Narendra Modi has shown his skills in natural disaster management. He had shown similar skills in the past too. Modi assessed the gravity of the threat in time and put his emergency plan in motion.
CHARGESHEET FILED AGAINST BRIJ BHUSHAN
The Centre fulfilled its promise to six female wrestlers on Thursday when the special investigation team of Delhi Police filed chargesheet, running into more than 1,000 pages, against BJP MP Brij Bhushan Sharan Singh, and has made him accused under Sections 354, 354A and 354D of IPC. Secretary of Wrestling Federation of India Vinod Tomar has also been made accused. The sections under which Brij Bhushan has been nailed provide for one year to five years' imprisonment, most of the sections are bailable, only 354A is non-bailable, and it depends on the investigation officer whether to arrest the accused or not. In its chargesheet, police said the female wrestlers submitted five photographs and some digital evidence as proof, while statements of 25 witnesses were recorded. Delhi Police filed cancellation application in the POCSO (Protection of Children From Sexual Offences) Act, after the minor wrestler withdrew her charges. Overall, Brij Bhushan Sharan Singh may not be arrested soon, and on the other hand, the assurances given to wrestlers by Sports Minister Anurag Thakur have been fulfilled. The chief metropolitan magistrate's court will take up the matter for hearing on June 22. Brij Bhushan Sharan Singh had been making lot of blusters, challenging his rivals to show evidence, and now, police have come up with a chargesheet along with statements of witnesses and evidence. The leader may have to face the music if he thinks that by making the minor girl change his statement, he is free. It is not so easy. The court will now decide whether to accept the cancellation application of the police or not. The court may ask why the girl changed her statement. It may question whether the girl changed her statement on her own or was she acting under coercion. It is true that the popular perception about Delhi Police has been that it was trying to protect Brij Bhushan. When visuals of female wrestlers being dragged on the street near Jantar Mantar were flashed across the globe, Delhi Police faced flak. That is why the chargesheet that Delhi Police filed on Thursday is being watched with suspicion. The promise of sticking to the deadline for filing chargesheet, June 15, that Anurag Thakur made to wrestlers, was fulfilled. Brij Bhushan may be happy now that the sword that was hanging on his head is no more. The wrestlers might be feeling that at last a chargesheet has been filed. It is now clear that Wrestling Federation of India is now free from the clutches of Brij Bhushan Sharan Singh, and female wrestlers will not have to live in fear.
IS OPPOSITION SCARED OF COMMON CIVIL CODE?
The debate on whether India should have a uniform civil code has begun with the Law Commission seeking opinions from people on UCC within the next 30 days. The Commission will then submit its report to the government. Muslim clerics and leaders have raised objection on the Law Commission's move. Jamiat Ulama-e-Hind president Maulana Arshad Madani said, no government in the past had tinkered with Muslim Personal Law, but the present government is deliberately moving towards that direction. Maulana Sufian Nizami of Darul Uloom Firangi Mahal said, the nation does not need a uniform civil code, the government should focus more on other pressing issues. Samajwadi Party MP Shafiqur Rahman Barq said, BJP is raising this topic because Lok Sabha elections are due next year and several states will also have assembly polls. Congress leader Jairam Ramesh alleged that Modi government is trying to divert people's attention from its 'failures' and wants polarization of votes to win LS polls. BJP leader Mukhtar Abbas Naqvi said, more than 80 countries, including several Islamic countries, have common civil code, but in India, this has become a political issue. Union Law Secretary P K Malhotra said, the 21st Law Commission had sought public opinion on uniform civil code in the past and had given its report, and now the 22nd Law Commission has also done the same. Seeking public opinion does not mean that the UCC will be implemented, he said. Opinions from political parties and legal luminaries will also be taken and this is a long-drawn process, Malhotra said. Leaders of political parties are not worried about the Law Commission's move. Their worry is that BJP had three main topics on its agenda since the Nineties: (1) Building Ram Temple in Ayodhya (2) Removal of Article 370 and (3) implementing a common civil code. Narendra Modi's government has fulfilled the first two promises, and only the common civil code issue remains. Since Lok Sabha elections are due next year, opposition parties and Islamic clerics feel that the government will implement UCC in the next few months, and BJP will make it a big poll issue. If Modi government introduces to the common civil code bill in Parliament before elections, Congress will be the hardest hit, because, of late, it has started to project itself as a benevolent Hindu party, particularly in Madhya Pradesh, where Hanuman Chalisa is being recited by party workers in all districts. Apart from Congress, parties like NCP, JD(U), RJD and Shiv Sena (Uddhav Thackeray) may also face confusion. Those opposing the common civil code bill will be tagged as anti-Hindu parties. And if these parties support the bill, leaders like AIMIM chief Asaduddin Owaisi will go to town and claim that he is the only politician who is fighting for the cause of Muslims. If Modi government implements the Uniform Civil Code, it will be a big political leap. This is exactly the reason why there is hue and cry after the Law Commission sought public opinion. Let me tell you, Goa is the only state in India today where uniform civil code is in force. Uttarkhand government has declared its intention to implement common civil code and an experts' committee is going to give its report by this month-end. Soon after that, Uttarkhand CM Pushkar Singh Dhami's government will bring forward a common civil code bill.