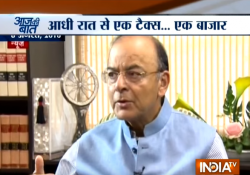 Goods and Services Tax has been rolled out in the country.  I have christened this revolutionary tax reform as "Doosri Azadi" or India's Second Independence as the GST law will transform India's economic landscape.
US President Donald Trump, in fact, is so impressed with India's GST move that he is considering implementing the same in his country. However, India is leading the way today with the implementation of the new indirect tax regime.
Just like any revolutionary reform, the execution of GST law is not bereft of struggles. There might be initial hiccups, common man and traders might face a few challenges. Many are already criticising the GST legislation. To ward off their apprehensions, PM Modi has decided to address various groups and answer all their queries.
Very few had expected that Modi government would be able to conform to the GST deadline of 1st July. The country has witnessed similar empty promises by many Government regimes before. Huge credit goes to Finance Minister Arun Jaitley for GST's timely implementation. The GST Council comprised members of different parties and ideologies. But Jaitley accomplished this nearly impossible task of achieving consensus on GST legislation.
Click Here for the Video