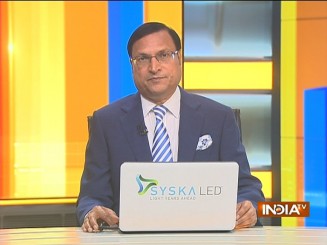 Reports about the busting of a gang targeting teenagers through a gaming app 'Fortnite' in order to convert them to Islam is really worrying. This inter-state gang is active on internet. According to police, till now, the gang has lured four Hindu and Jain teenagers in Ghaziabad, Faridabad and Chandigarh to convert to Islam. Union Home Ministry and UP government have sought detailed report about the activities of this gang. I want to caution parents to keep a close watch on their children who use gaming apps on smart phones or laptops. They should keep a watch when their children are involved in long conversations with unknown persons and leave their homes daily without telling their elders. If you notice changes in the habit of your children, please be on alert. The modus operandi of the gang is simple: they offer money, try to become friends and then through persuasion, ask children to convert to other religion. This gang has been operating in UP, Haryana, Punjab, Gujarat and Maharashtra. Reports say, this gang converted nearly 400 Hindus in Mumbra near Mumbai. In our show 'Aaj Ki Baat' on India TV, we played an audio conversation between a gang member and a young boy. Normally, this gang targets young boys and girls who play online games, offer them inducements and jobs, foreign travel, and the game begins by assuring them a win in their game. In Ghaziabad, a young boy went to a mosque to offer namaaz five times a day, but he told his parents that he was going to the gym. On suspicion, his parents followed him and caught him red-handed. They complained to police and the imam of a local mosque was detained. UP Police has sent a team to Maharashtra to arrest other members of the gang. In the audio tape, the gang member was heard trying to convince a Hindu boy the advantages of converting to Islam. On Sunday, Nanni Alias Abdul Rehman, a moulvi at a local mosque in Sanjay Nagar area in Ghaziabad was arrested and a manhunt has begun to nab the second accused, Shahnawaz Khan alias Baddo, a resident of Thane, Maharashtra. Nipun Aggarwal, Deputy Commissioner of Police, Ghaziabad, said, police have seized electronic evidence and related documents, to establish that the online game required users to recite verses from Holy Quran to the teenagers in order to win. The teenage gamers were also shown videos of absconding radical Muslim preacher Zakir Naik and another preacher Tariq Jameel. Zakir Naik, accused in several cases, fled India in 2016. Police said, the accused used to talk with the gamers through a chat application and showed them videos of Zakir Naik and Tariq Jameel. The 47-minute-long audio tape is proof of how Hindu and Jain teenagers are lured by offering them inducements and dreams of a lavish life. In most of the cases, parents fail to know when their children have got converted. For the police, it is not easy to solve such cases. In India, every citizen has the fundamental right to practise any faith, but there is also a law which says converting a person to another faith through inducements or coercion is a crime. If an impressionable young mind is made to convert his or her religion, the crime is more severe. In such cases, however, it is difficult to collect evidence of inducement or coercion. In the case of this gang operating in Ghaziabad and Mumbra, police have obtained evidence and statements. Parents must remain alert. If they find their children having long conversations on phone, or leave home suddenly, they must keep a close watch. I will also add a rider. Any effort to defame Islam on the basis of two or four cases cannot be justified. Even Prophet Mohammed never approved of forcible conversion. When two or four Muslims carry out such conversion, they bring a bad name to Islam. We must not tar the entire community with the same brush.
CANADA : GLORIFYING ASSASSINATION IS UNACCEPTABLE
India on Thursday hit out at Canada for allowing Khalistan supporters to bring out a float depicting assassination of former Prime Minister Indira Gandhi at a parade in Brampton. The parade was taken out on Sunday, two day before the 39th anniversary of Operation Blue Star. The float was part of a 5-km long parade taken out by Khalistan supporters. The video of the float drew sharp reactions in India, and the Congress slammed the 'glorification' of the assassination of Indira Gandhi. On Thursday, External Affairs Minister S. Jaishankar said, "it is not good for relationships and not good for Canada". The Indian High Commission in Canada has given a note to the Canadian foreign ministry expressing resentment. Jaishankar said, "there is a larger underlying issue about the space which is given to separatists, to extremists, to people who advocate violence….Frankly we are at a loss to understand other than the requirements of vote bank politics, why anybody would do this." Canadian High Commissioner in India Cameron MacKay tweeted saying, he was appalled by reports about the event. "There is no place in Canada for hate or for the glorification of violence. I categorically condemn these activities." Jaishankar has done the right thing in giving a veiled warning to Canada by saying 'this is not good for relationship'. Indira Gandhi was not only the prime minister of India, but a respected world leader. Glorification of her assassination cannot be justified in any corner of the world. In Canada, anti-India groups are active, sometime in the name of farmers, in the name of Khalistan, and their sole purpose is to tarnish India's image. The government of Canada must put such activists on leash. It is its responsibility. Canada should learn from its neighbour, the USA, on how to respect the sentiments of the people of India.
RAHUL MUST KNOW, ELECTIONS ARE FREE AND FAIR
External Affairs Minister S. Jaishankar on Thursday attacked Congress leader Rahul Gandhi for criticizing India abroad and said his remarks were not in national interest. On Rahul Gandhi's comments in the US that there is no democracy in India, Jaishankar said: "There is democracy in the country. You have your politics, we have ours. I have no problem with whatever is done within the country, but I do not think taking national politics out of the country is in national interest. I do not think it will enhance his credibility….The world is looking at us and what is the world seeing? Elections are held in the country and sometimes one party wins and at times the other parts wins. If there is no democracy in the country, such changes should not come." Union Minister Smriti Irani alleged that Rahul met a person in America, who is notorious for destabilizing governments across the globe. She alleged, Rahul had gone to the US to chalk out a conspiracy against Modi government. I do not agree with the argument that Rahul Gandhi has no right to criticize the government on foreign soil. In this digital age, it does not matter where the remarks are made, whether in India or on foreign soil. It can be watched anywhere. But for Rahul to allege that elections in India are not free and fair, is totally wrong. The entire world praises India's democracy and its electoral system. The truth is that there has been a huge improvement in our electoral system. There are no more incidents of booth capturing, no abduction of candidates, and incidents of violence during elections are few. People go out fearlessly and elect their government. This is a matter of pride for India. Rahul Gandhi must not forget that it is under this electoral system that the Congress has formed and run governments.
DELHI CAMPUS TUSSLE : MUCH ADO ABOUT NOTHING
The tussle between Delhi Lt Governor V K Saxena and Chief Minister Arvind Kejriwal was out in the open on Thursday at the inauguration of the East Delhi campus of Guru Govind Singh Indraprastha University. Slogans were raised by both BJP and AAP supporters during the speeches. Both the L-G and CM 'jointly' inaugurated the campus. BJP supporters hooted when Kejriwal took the mike. AAP supporters chanted slogans in reply. BJP supporters hooted when Education Minister Atishi spoke, and in reply, AAP supporters hooted when the Lt. Governor spoke. The stage for the tussle was set when both camps tried to take credit for building the East Delhi campus. While BJP said, the foundation was laid in 2014 by the then HRD Minister Smriti Irani, the campus was self-funded and built at a cost of Rs 387 crore, with Delhi government contributing only Rs 41 crore, AAP claimed that it was the Delhi government which completed the construction work. The party claimed that it was "a brainchild of former Education Minister Manish Sisodia (now in jail)". Personally, I think, the inauguration event of a university campus should not be made a political ring. There was no need for supporters of either parties to shout slogans. The Lt. Governor inaugurate, the CM was made the chief guest, then why so much hullabaloo? How does it matter for the university students who inaugurated the campus? Rather, the focus should be on ensuring whether the students at the campus get good facilities for studies or not.