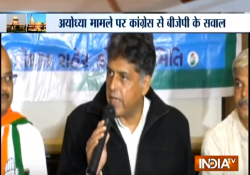 On Tuesday, senior Congress leader Kapil Sibal, appearing in Supreme Court on behalf of Sunni Central Waqf Board in the Ayodhya title dispute case, requested the judges to begin hearing only after the 2019 Lok Sabha elections, but this was promptly turned down by the bench. The apex court fixed February 8 next year for the commencement of the hearing.
After the court proceedings were adjourned, BJP president Amit Shah demanded that the Congress should clarify its stand on whether it wanted the Ram temple built in Ayodhya or not. The Congress stuck to its old stand that it would abide by the court verdict. In recent years, the Congress had been regularly making fun of the BJP and Sangh Parivar alleging that they had no interest in building the Ram temple and that the BJP was only interested in using this issue for electoral gains. Congress leaders like Manish Tewari and Digvijaya Singh used to remark "Mandir wahin banayengey, lekin taareekh nahin batayengey". Now that the BJP leadership wants the temple to be built after an early apex court verdict, Kapil Sibal wants the matter to linger on till the 2019 Lok Sabha polls.
The intention is clear. If the Ram temple is not built by the time 2019 Lok Sabha elections are held, Rahul Gandhi and other Congress leaders will go to town to tell the public that the BJP failed to build the temple despite being in power at the Centre and in UP. The present problem relates to timing. Kapil Sibal made this request in Supreme Court on the eve of polling in Gujarat, where the party is trying to prove Rahul's identity as a devout "janeu" (sacred thread) wearing Hindu by saying that he was a devotee of Lord Shiva. Amit Shah has now queered the pitch for Congress by asking the party to clarify whether it wants the temple to be built or not.
Click Here for the Video