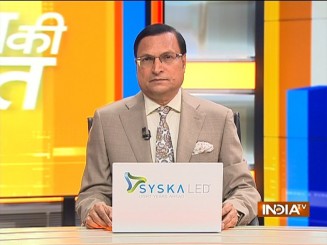 In a scathing counter-attack at an election meeting in Shillong on Friday, Prime Minister Narendra Modi lambasted Congress leaders who sat on the tarmac of Delhi airport and chanted "Modi Teri Qabr Khudegi"(Modi, your grave will be dug) slogan, while protesting the arrest of Congress spokesperson Pawan Khera.
Narendra Modi said, "Some people, who have been rejected by the people of this country, are now so frustrated that they are now praying with beads (maala), saying, 'Modi your grave will be dug', but the people of the country are saying, 'Modi, your lotus will bloom'. The people of India will give a befitting reply to such people for using such language and having such a mindset…Every corner of the country is saying, 'Modi, your lotus will bloom'. The blessings of the people of India are making some people so much frustrated that they feel things will not work out for them so long as Modi is alive. So, they are digging Modi's grave. How long will you dig my grave? Do some social work…"
Modi went on: "When Congress ruled north-east states, its central leaders used these states as ATMs to fill their pockets. But BJP used technology to ensure that the money reached the bank accounts of poor people, without any cut or commission. The people of Meghalaya want a 'people-first' government, not a 'family-first' government."
This was one of the strongest reactions from Prime Minister Modi against the Congress in recent months. Congress leaders know it very well that abusing Modi can harm them during elections. The results of several elections in the past are witness to this. Yet, there are some Congress leaders who excel in scoring self-goals.
First, Pawan Khera used insulting words about Modi's father Damodardas Modi at his party's press conference. He later tendered apology before Supreme Court through his lawyer and got interim bail. But while staging sit-in on Delhi airport tarmac to protest his arrest, some Congress leaders chanted slogan 'Modi Teri Qabr Khudegi'.
Senior party leaders are now maintaining a silence over this signal, but Modi has caught on to their mistake. Whenever he will recount the abuses hurled by Congress, this slogan is sure to crop up in the list.