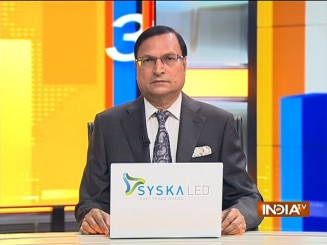 The Congress seems to be caught in a bind over its promise to ban Bajrang Dal in Karnataka. With Prime Minister Narendra Modi chanting 'Bajrangbali ki Jai' slogan at his rallies and asking Kannadiga voters to chant the same while casting their vote, the tone and tenor of election campaign has completely changed. Former Karnataka CM and senior Congress leader M. Veerappa Moily on Thursday clarified that there was no proposal to ban Bajrang Dal, simply because the state government does not have the power to ban radical outfits. On the other hand, Chhattisgarh CM Bhupesh Baghel said, Bajrang Dal must be banned. It is true that there is no connection between Bajrangbali (Hanuman) and Bajrang Dal, but BJP has given the Congress promise a twist. Congress made the mistake in naming Bajrang Dal as a radical outfit. It is not a terror outfit which indulges in anti-national activities. For those who do not know, Bajrang Dal was set up in 1984 at the Vishwa Hindu Parishad's Dharma Sansad, when the Ramjanmabhoomi movement was launched. At that time, 'Ram Janaki rath' yatras were taken out by VHP, and when incidents of stoning took place, and the state governments refused to provide security, VHP formed its own groups of young men to provide security to Ram devotees. The group was named Bajrang Dal because Bajrangbali (Hanuman) is considered the foremost devotee and warrior of Lord Ram. The Bajrang Dal thus came into existence. It was set up for protection of Hindus and Ram devotees. It cannot be termed a terror outfit. Since Congress clubbed Bajrang Dal with Islamic radical outfit PFI, it became a big issue. At his public meetings, PM Modi told the audience to go home and spread his message: to chant 'Bajrangbali ki Jai' while pushing the EVM button and teach Congress a lesson. Karnataka is heading towards a straight contest between Congress and BJP. It is true that Congress was in a strong position till a few days ago, but Narendra Modi changed the narrative in the last four days. BJP leaders feel, Modi can help the party win the elections. Modi has extended his campaign in Karnataka. Till Wednesday, he has addressed 12 public meetings and took out three road shows. On Saturday (May 6) , Modi will lead a 37 kilometre long road show, the largest so far, in the city of Bengaluru, covering 17 assembly seats. On Sunday, he will address four rallies. BJP leaders are confident that Modi could prove to be a game changer this time.
YOGI TOILING HARD IN UP ELECTIONS
The first phase of polling for local urban bodies took place in 37 districts of Uttar Pradesh on Thursday, while the second phase will take place on May 11. Chief Minister Yogi Adityanath is in the thick of campaigning, covering almost all the districts. On Wednesday he addressed rallies in Mau, Azamgarh, Ballia and Sant Kabir Nagar, and attacked both Samajwadi Party chief Akhilesh Yadav and BSP supremo Mayawati. He reminded voters how mafia dons and gangsters used to rule during SP and BSP rule, but now most of them were behind bars. On his part, Akhilesh Yadav is raising local issues facing voters. On Twitter, Akhilesh wrote how BJP leaders were travelling across the state in helicopters, because the party fears defeat. The fact is completely different. In the last urban local bodies elections, BJP won 14 out of 16 municipal corporations, while BSP won two. SP could not open its account. Despite BJP's firm footing, Yogi, along with other BJP leaders, is toiling hard. He has addressed 28 public meetings till now. On the other hand, Akhilesh Yadav travelled in Lucknow Metro, and addressed meetings in Gorakhpur, Saharanpur and Kannauj. Mayawati did not address a single meeting. The indications are quite clear. Yogi's toil is going to bear fruits when the votes will be counted on May 13.