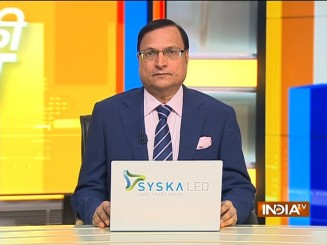 In the run-up to the 2024 Lok Sabha elections, the two major political parties, BJP and Congress have already begun to flex their muscles by carrying out road shows and strategy meetings. On Monday, Prime Minister Narendra Modi led a small road show at the beginning of BJP national executive meet, while the 'Bharat Jodo Yatra' of Rajul Gandhi continues in Punjab. The BJP president J P Nadda told the national executive that "2023 is a crucial year for the party as it will have to contest elections in 9 states". The meeting was attended by 350 members, 50 permanent invitees, 179 special invitees, which included 35 central ministers, 12 chief ministers, and leaders of opposition and state party chiefs.
BJP's strategy is clear. It has Narendra Modi as the strong leader, and the party will be seeking votes in the name of Modi, whether in assembly or parliamentary polls. Modi's clean image and his capability of providing direct benefit to poor people will be focused. The party will try to reach out of people, get feedback and iron out weaknesses.
On the contrary, the Congress' strategy is to attack Modi's image. This has been the central point of Rahul Gandhi's 'Bharat Jodo Yatra'. Congress leaders claim that the BJP leadership is worried about the turnout of people in the Yatra. Rahul Gandhi's strategist Jairam Ramesh said on Monday that while Modi's road show was an event management, Rahul's Bharat Jodo Yatra is a movement.
Rahul's Yatra is going to complete four months and he has already traversed 3,200 kilometres from Kanyakumari up to Punjab. There has been no change in his style of speech, his dialogues, and several times it appears as if his speech, the style of presentation are the same. This is not only Rahul's problem, but a common refrain with Congress leaders. Congress will be holding its next session in Raipur, Chhattisgarh from February 24 to 26.
The Grand Old Party wants to contest and win elections in the same traditional manner. Elections are due in April this year in Karnataka. Congress general secretary Priyanka Gandhi Vadra reached Bengaluru on Monday and addressed a women's rally. It was named Na Nayaki, which means, I am a woman leader. She promised her party would give Rs 2,000 monthly sop for every woman head of households in Karnataka. Earlier, the party had announced 200 units free electricity to every household. Priyanka Gandhi alleged that ministers in Karnataka were taking commissions up to 40 per cent in government projects.
In the last assembly elections in Karnataka, Congress was seeking re-election after ruling for five years, but its tally fell from 122 to 80 in a house of 224. The Congress-JD(S) coalition government fell due to defections, and BJP, which was the single largest party, is now in power. Karnataka is the only state after Gujarat, Rajasthan and MP, where Congress is in direct fight with BJP. Congress has leaders and workers in Karnataka, but the party is facing groupism. The rivalry between Siddaramaiah and D. K. Shivakumar is well-known.
The party high command is trying hard for a patchup, similar on the lines of Rajasthan where Chief Minister Ashok Gehlot and Sachin Pilot are at loggerheads. Groupism in the party due to lack of a strong leadership at the Centre seems to be the bane of Congress politics. BJP's leadership is in striking contrast, for all to see.