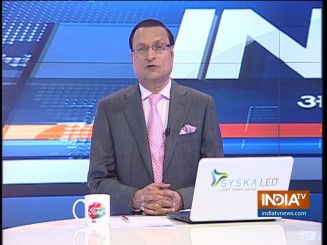 The renowned Ram Katha preacher Morari Bapu was my guest in Aap Ki Adalat show (will be telecast on India TV this weekend) and I asked him several questions relating to some controversies. On the Ayodhya dispute, Morari Bapu was emphatic. He wanted a temple to be built at the Ram Janmabhoomi, and appealed to the Supreme Court to deliver its verdict at the earliest.
The RSS, of late, has been creating pressure on Prime Minister Narendra Modi's government to bring an ordinance to acquire the disputed land in order to start building of the Ram temple. RSS chief Mohan Bhagwat has clearly said that the government must bring an ordinance soon, since the hearing in the apex court was dragging on and there seems to be no sign of an early verdict. The RSS chief is clearly not happy with Prime Minister Narendra Modi's statement that the government would wait for the final SC verdict before taking any action.
For the government, there is no easy way out. BJP MP Dr Subramanian Swamy, while mentioning a cabinet resolution taken by former PM P V Narasimha Rao's government, has suggested that the Centre can legally acquire the disputed land without waiting for the SC verdict, and compensation can be given at a later date if the verdict is to the contrary. This, he argues, will pave the way for early building of the Ram temple.
At a time when the issue is pending before the Supreme Court, any big decision on part of the government could anger the apex court. It would be better for the Centre to wait till January 29 when the hearing is expected to resume in the Supreme Court.
Click Here to  Watch Full Video | Get connected on Twitter, Instagram & Facebook