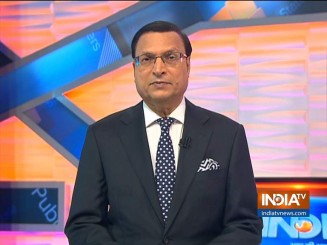 With the situation in Kashmir valley slowly returning to normal, the authorities are busy making preparations for Independence Day events. A dress rehearsal was conducted on Tuesday at Sher-i-Kashmir stadium in Srinagar.
The state government has also announced that it would host a three-day Global Investors Summit from October 12 in Srinagar. The summit is expected to lead to investments from India and abroad. New industries will create job opportunities for the local youths and instill a sense of confidence in them.
Presently, the common people in the valley are facing problems relating to communications. This is giving rise to unnecessary rumors fanned by Pakistani state media from across the border. The Governor has already indicated that cellphone and internet services will be restored after the Independence Day celebrations are over.
I would suggest two more steps. Firstly, the Centre should start preparations for holding of assembly elections at the earliest so that power can be handed over to the people's representatives. Secondly, if the assembly polls are conducted fairly and smoothly, the Centre should consider giving back full statehood to Jammu and Kashmir. This will open up avenues of peace and progress.
Pakistan is trying to boost the sagging morale of terrorists and separatists by deploying more troops, fighter jets and artillery near the Line of Control. The Pakistani army chief was present near LoC two days ago to oversee preparations by his forces to destabilize the region. The Pakistani Prime Minister and his senior ministers are camping in Muzaffarabad, Pak Occupied Kashmir, to send the symbolic message that their country stands with the Kashmiris. They are however fighting a futile battle.
Our armed forces have a twin challenge: One, to ensure that peace is not disrupted in the valley and work with utmost restraint, and Two, to foil the nefarious designs of Pakistani terrorists and their handlers from Pakistani army. Our security forces are maintaining utmost vigil.
On the diplomatic front, the Pakistani Foreign Minister Shah Mehmood Qureshi returned from China with an empty hand. His Chinese counterpart clearly told him that Pakistan and India should iron out their differences bilaterally. A crest fallen Qureshi had to tell the media in Muzaffarabad that "we should not live any more in a fool's paradise. Those at the UN are not waiting for us with garlands." Clearly, Pakistan has been snubbed diplomatically by the US, China and Arab countries on the issue of Kashmir.
The only option left before the Pakistani army establishment is to foment violence both at the Line of Control and in the valley, so that the world can sit up and take notice. Such desperate measures will however not work, because the Kashmiri people have seen through their game.
Click Here to Watch Full Video| Get connected on Twitter, Instagram & Facebook