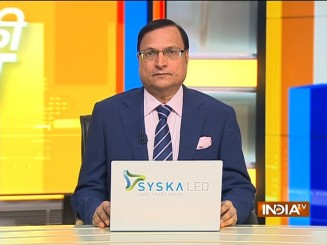 Punjab chief minister Bhagwant Mann was my guest this weekend in 'Aap Ki Adalat' where he replied to a wide range of questions relating to his second marriage, his alcoholic bouts, the gruesome murder of singer Siddhu Moosewala, use of narcotics in Punjab, rise of separatist Khalistani elements and sundry other issues. Mann came to limelight in Punjab as a seasoned comedian and his popularity rose after he joined active politics. In the show, he also displayed his talent at singing Punjabi songs. He also made famous singer Jasbir Jassi, who was the judge in my show, sing a popular number. You can watch 'Aap Ki Adalat' with Bhagwant Mann tonight at 10 on India TV.
OPPOSITION UNITY EFFORTS FACING OBSTACLES
Bihar chief minister Nitish Kumar has convened a conclave of all opposition parties including Congress in Patna on June 23, but already his efforts at forging opposition unity are facing obstacles. Nitish's ally Jitanram Manjhi, who heads Hindustani Awam Party, has walked out of the Mahagathbandhan, and Manjhi's son has resigned from Bihar cabinet. In UP, Om Prakash Rajbhar is on the verge of joining NDA. He had a secret meeting with UP CM Yogi Adityanath recently. As head of Suheldev Bharatiya Samaj Party, Rajbhar has thrown a challenge to Samajwadi Party chief Akhilesh Yadav to at least try bringing BSP chief Mayawati, RLD chief Jayant Chaudhary in UP on a single platform and then speak about opposition unity. Congress has clearly said, it is not going to ally with Aam Aadmi Party in Delhi and Punjab, and AAP is free to field candidates against Congress anywhere in India. In reply, AAP has said Congress lacks leader, policies and ideas for future, and it copies AAP's ideas of giving freebies in its manifesto. Punjab CM Bhagwant Mann told me in 'Aap Ki Adalat' show that Congress is on the verge of extinction and it will become a part of fables and legends soon. He asked, how can a party which has 'nil' MLAs and 'nil' MPs in Delhi think of competing with AAP? Meanwhile, Trinamool Congress chief Mamata Banerjee has placed a condition for Congress. She has said that Congress must not ally with the Left, if it wants to be part of alliance with TMC. Mamata Banerjee has rejected any tie-up with the Left. With regional parties like TMC setting conditions, and small caste-based parties in Bihar and UP walking away from opposition unity efforts, Nitish Kumar's aim for achieving unity among opposition parties may be difficult to achieve.
PANCHAYAT POLL VIOLENCE IN BENGAL
Reports of violence and bomb attacks are still coming in from West Bengal, which will be going for panchayat elections. In South 24-Parganas, a BJP worker's house was attacked on Friday, while in Murshidabad, a local TMC leader was killed. Locally made bombs have been seized in Birbhum, Bhangar and South 24-Parganas. WB BJP chief Sukanta Majumdar, who visited the home of his party worker, compared the conditions of Bengal with Afghanistan. West Bengal Governor C V Ananda Bose visited South 24-Parganas and spoke to common people. He directed officials to take strong action against those indulging in violence. The visuals of violence that have come from Bengal, are really a shame for our democracy. Violence in Bengal during elections is not an extraordinary thing. Trinamool Congress leaders are trying to downplay such violent incidents. Mamata Banerjee is blaming Left, Congress and BJP for violence. It is surprising Mamata is naming Congress and Left parties, though she is supposed to attend the June 23 meeting of opposition leaders in Patna. Mamata is trying to corner Congress. Mamata Banerjee knows she is not going to leave any space for Left in Bengal at any cost. She seized power from the Left after a long struggle, facing bullets and lathis for decades. She does not want the Left to get oxygen in Bengal in the guise of opposition unity.