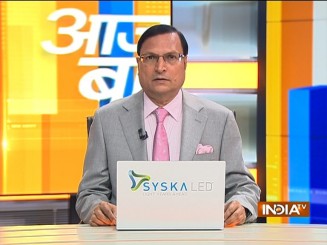 Ghulam Nabi Azad, who devoted 50 years of his life to Congress party, in my show 'Aap Ki Adalat', has for the first time, disclosed why Sonia Gandhi decided not to become Prime Minister in 2004. These are sensational disclosures that unlock long-kept political secrets. He also revealed why Sonia Gandhi preferred Dr Manmohan Singh for the post of PM and did not chose to any other senior Congress leader for the post. Why Pranab Mukherjee was not made PM at that time? Another secret that Ghulam Nabi Azad unlocked was: Who prevented Priyanka Gandhi Vadra from entering active politics? Why Rahul Gandhi was preferred instead of Priyanka? Azad also makes some interesting revelations about why Congress badly lost in Punjab and whether it was Navjot Singh Sidhu who sunk the party's ship in that state? You will find all these political puzzles unlocked when you watch 'Aap Ki Adalat' show tonight at 10 on India TV. You will find out why when the entire Congress Party along with its allies DMK, Left, and others, agreed on Sonia's name as the obvious choice for PM, but Gandhi family declined to take up the offer. For the first time, Azad revealed, Sonia Gandhi was afraid because some women BJP leaders had decided to oppose her if she was made the PM. Azad also revealed why Priyanka was not brought to active politics despite her campaigning for her mother in Rae Bareli. Azad has also revealed why Priyanka has not contested any election till date. Azad said it was he who suggested to Sonia Gandhi to keep the Bellary Lok Sabha seat with her, and allow Priyanka to contest from Rae Bareli, but Sonia decided otherwise. She kept Rae Bareli seat with her and resigned from Bellary. I asked Azad why Rahul was given preference over Priyanka for joining politics. Azad's reply was surprising. in the show, Azad told me repeatedly that he knew several secrets about Gandhi family, but he would not reveal personal matters. He said, all these secrets will go with him to his grave. One significant point to note: Ghulam Nabi Azad, despite leaving the Congress party, did not criticize either Sonia or Priyanka, but kept all his caustic remarks reserved for Rahul and his advisers. He alleged, Rahul never wanted to work hard in active politics, he never listened to others, and when leaders like him gave advice, he used to allege that they were pro-Modi. Do watch 'Aap Ki Adalat' show with Ghulam Nabi Azad tonight at 10 pm on India TV, and in case, you miss it, you can watch on Sunday morning at 10 am.
AMIT SHAH'S BARBS AT RAHUL
In Kaushambi and Azamgarh, UP, on Friday, Home Minister Amit Shah, while addressing rallies, lashed out at Rahul Gandhi saying that it was because of his own mistakes that he lost the Lok Sabha membership. Shah alleged that Rahul denigrated India's image on foreign soil. He said, it was not democracy, but (Gandhi) dynasty which is under threat. Shah even challenged to fix a venue where BJP workers will be ready to 'take on' Rahul's challenge. In Delhi, Vice President Jagdeep Dhankhar, without naming Rahul, expressed concern over Indian leaders spoiling the country's image abroad. Amit Shah's speeches give clear indication that BJP is going to make Rahul's controversial remarks a big issue in the forthcoming elections. Rahul had said at a press conference that 'I am not Savarkar, I am a Gandhi, and Gandhis do not apologize'. Congress leaders are caught in a fix. They do not know how to counter BJP's attacks on this issue.
CONGRESS WANTS OPPOSITION UNITY
Congress leaders have acknowledged that the party alone cannot defeat Narendra Modi at the hustings, and only a united opposition can give BJP a tough fight. Congress President Mallikarjun Kharge is speaking individually to each opposition leader in order to forge an anti-Modi front. He spoke to Bihar CM Nitish Kumar, Tamil Nadu CM M K Stalin and Shiv Sena (Uddhav) chief Uddhav Thackeray on phone. There are two big obstacles in the path of opposition unity. One, the existence of regional parties and Two, the unanimous projection of a face for PM's post. Whether it is RJD and JD-U in Bihar, TMC in Bengal, SP and BSP in UP, AAP in Delhi and Punjab, BRS in Telangana, or DMK in Tamil Nadu, all these regional parties emerged after finishing off the base of Congress party in their respective states. There seems to be few chances of these parties giving some space to Congress in their states. In UP, Akhilesh Yadav is still ruing the day he decided to join hands with Rahul for elections. It was Late Mulayam Singh Yadav, who had then said that Akhilesh is making a mistake. Mulayam was proved right. Secondly, there is little chance of regional leaders like Mamata Banerjee or Nitish Kumar accepting Rahul Gandhi as the PM candidate. Both may not be saying so publicly, but consider themselves as strong contenders. Mamata has publicly said that Narendra Modi would prefer Rahul to be the opposition's PM candidate, because this would make his victory easier. Much as the opposition leaders talk among themselves about unity, the moment the question of Congress crops up, all talks about unity end as a non-starter. Nitish Kumar has already realized this and he has already started nurturing his Muslim vote bank by attending iftaar parties during Ramzan in Bihar.