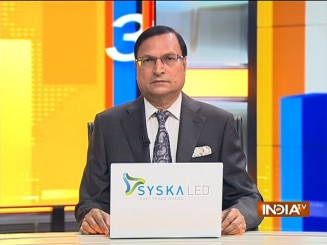 First, the good news. The nearly 500-year-long wait for the Ramjanmabhoomi Temple will be over on January 22 next year. On that Monday, devotees of Lord Rama can enter the huge temple after the installation (Pran Pratistha) of the idol of Ram Lalla (young Rama). Almost 500 years ago, at this spot, Babri Masjid was built in 1528-29 after the demolition of Ramjanmasthan temple by a commander of Mughal emperor Babur. The Ram Janmabhoomi Teerth Kshetra Trust has sent an invitation to Prime Minister Narendra Modi to attend the historic ceremony on January 22. India TV political editor Devendra Parashar reports that the PMO has accepted the invitation. The Prime Minister will be the chief guest at the ceremony to instal the idol of Ram Lalla. The plinth work of the sanctum sanctorum is almost complete and carving work on the wooden doors is in progress. Golden inlay work will be done on the doors and the famous Makrana marble has been used inside the sanctum sanctorum. Teak wood from Chandrapur, Maharashtra, which has a durability of more than a thousand years, will be used to build the doors. The 'kaastha pooja' (wood ceremony) will take place this month-end. It will be attended by Maharashtra CM Eknath Shinde and UP CM Yogi Adityanath. In the temple complex, there will be five 'mandaps', each 35 feet wide and 32 feet long. The installation date January 22 falls a week after the annual Makar Sankranti. The ceremony will continue for seven days and devotees from India and abroad are expected. The 161-feet high Ram Temple is quake resistant and can withstand weather disturbances for more than a thousand years. No iron has been used in the entire temple complex. Copper rods have been used to fix the stone slabs. 392 beautifully carved pillars support the sanctum sanctorum made of white marble. The famous Makrana marble never changes colour even after a hundred years. The first floor of the temple will be ready before next year's Makar Sankranti (January 14). The Ram Janmabhoomi Temple is the centre of faith for millions of Hindus spread across India and the rest of the globe. It has been one of the several 'sankalp'(resolves) of Prime Minister Narendra Modi. It was Modi who laid the foundation of the temple on August 5, 2020, and the temple is now ready to be opened in three and a half years. This is a big achievement. It is surprising that Narendra Modi was the first Prime Minister of India, who visited Ayodhya for the 'darshan' of Ram Lalla, when it was inside a makeshift tent after the demolition of Babri mosque. And it is during his tenure as PM, that Ram Lalla will be shifted from a tent to the gorgeous new temple. The ruling BJP is naturally going to project this as one of its great achievements. The opposition leaders do understand its nuances for the common voters.
CONGRESS : THE NEW HINDU PARTY
Congress general secretary Priyanka Gandhi was in Jabalpur on Monday to address a party rally to launch its Madhya Pradesh election campaign. Before addressing the rally, she went to the banks of river Narmada, considered sacred by Hindus, and along with former CM Kamal Nath and other leaders, performers prayers at Gwari Ghat, in front of 101 Brahmins. It is now clear that the Congress, instead of adopting a soft Hindutva stance, will go all out to woo Hindus through the path of devotion. On the roads leading to the rally grounds, Congress displayed posters of Bajrangbali holding a mace, while several party workers, dressed as Lord Hanuman, went to the rally. At the rally, Priyanka Gandhi announced '5 guarantees' if Congress was brought to power in MP. These promises include Rs 1,500 monthly assistance to every eligible woman, LPG cylinders at Rs 500 each, 100 units of free electricity, and implementation of old pension scheme for government staff. After its victory in Karnataka assembly elections, Congress has pinned its hopes on Madhya Pradesh by announcing '5 guarantees', as it did in Karnataka. Since most of the Hindu voters in MP are religious in nature, the party has decided to abandon its soft Hindutva line and project itself as a proponent of hardline Hindutva. Already, Kamal Nath had been organizing Hanuman Chalisa recitation and Bhagwad Katha across Madhya Pradesh, and Priyanka Gandhi has approved this line by performing 'aarti' of river Narmada. Congress leaders, however, know that it would not be easy to counter BJP on Hindutva pitch. While Priyanka was performing prayer of Narmada, MP chief minister Shivraj Singh Chouhan laid the foundation of Harihar Teerth temple in Katni on Monday, in the presence of Jagatguru Rambhadracharya and Swami Avadheshananda Giri. BJP leaders, since the Nineties, have been espousing the cause of Ram Temple in Ayodhya, and Prime Minister Narendra Modi has changed the face of Kashi Vishwanath temple and Ujjain Mahakaal shrine during his nine years' tenure. Congress leaders are now following the Hindutva path, by performing 'aarti' of Narmada, reciting Hanuman Chalisa and even hoisting saffron flags on party offices. This is a sea change in Congress politics. Earlier, Congress leaders used to baulk on uttering 'Jai Shri Ram', and refrained from visiting Hanuman temples. The situation has now completely changed. The assembly election this year in Madhya Pradesh will be really interesting. Both BJP and Congress are in the race projecting themselves as real proponents of Hindutva. BJP seems to be slightly ahead in the race because the party has been known to publicly espouse the rights of Hindu community. Shivraj Singh Chouhan is going to label the new-found 'devotion' of Congress as poll-oriented. For Congress leaders, to prove that they are staunch Hindutva supporters will be a tall order. Till last year, Congress leaders used to go to dargahs to offer 'chadar', but now their strategy has changed. In faraway Chicago, USA, AIMIM chief Asaduddin Owaisi explained to his audience the difference between Congress and BJP on the issue of Hindutva. He said, 'what Congress is doing in a subtle manner, BJP does it openly'.
OWAISI'S COMMENTS ON UTTARKASHI INCIDENT UNJUSTIFIED
There is tension in the small town of Uttarkashi in Uttarakhand after a 'love jihad' incident. Hindu outfits have called a Mahapanchayat on June 15 (Thursday), and prior to this, posters have appeared in the town asking Muslim shopkeepers to leave the town. Hindu outfits have been staging protests after a 'love jihad' incident. On Saturday, Hindu traders closed their shops and held a panchayat. Temple priests have been appealing to people to maintain peace, but at the same time, asked authorities to enact a strong law to stop 'love jihad' cases. V. Murugesan, Additional DGP (Law and Order) of Uttarakhand said, till now, no complaint has come from any shopkeeper of Hindu outfits threatening people to leave the town. In Chicago, USA, Asaduddin Owaisi compared this threat with Hitler's Germany. He alleged that Muslims are being targeted like the Jews who were targeted in Germany during Hitler's rule. Uttarkhand CM Pushkar Singh Dhami went to Uttarkashi and met local residents. He warned of strict action against anybody going against the law. It is true that some pictures have been circulated on social media of some shops in Uttarkashi bearing cross sign, and posters shown asking 'outsider Muslims' to quit the town by June 15. Such threats are worrying and the state government has also taken it seriously. Muslim shopkeepers have the same right as Hindus to engage in trade, but it is unjustified to allege, on the basis of such posters, that Muslims in India are being given the same treatment that the Jews got in Hitler's Germany. Such a remark from a barrister like Owaisi is highly unjustified. Congress leader Rahul Gandhi also made some comments in the US, and a section of American media tried to create a wrong perception about India. In some cases, the role of Pakistan's propaganda machine is evident. Indian leaders should be careful before making such comments outside the country.