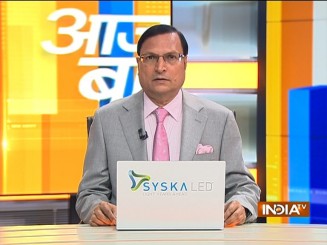 Eight teams of State Disaster Response Force, one team of National Disaster Response Force, along with police force, have swung into action to chalk out plans to demolish 678 buildings, marked unsafe in the hilly Uttarakhand town of Joshimath on Tuesday.
The Supreme Court on Tueday refused a plea for an urgent hearing to declare this crisis as a 'national disaster'. The apex court will hear the case on January 16. The bench of Chief Justice D Y Chandrachud and Justice P S Narasimha observed that there are democratically elected institutions which will look into it and there was no need to seek an urgent hearing in the apex court. The plea was filed by Swami Avimukteshwarananda Saraswati.
As a first step, two hotels in Joshimath, Mount View and Malari Inn, will be razed by the local administration, as the two structures are leaning towards each other, thus posing a threat to nearly one dozen houses in the vicinity. Both the structures will be demolished mechanically soon, as they are subsiding, said a senior official. A team from Central Building Research Institute, Roorkee, has carried out a survey of both the hotel structures for the purpose of demolition, to ensure zero collateral damage.
With more houses, roads, buildings and other structures developing wide cracks, officials have begun putting 'red X signs' on unsafe buildings, marked for demolition. More than 81 families have evacuated their homes, and the state government has provided temporary shelters.
The state government has finally decided that evacuation is the only way to save lives. Orders have been issued to evacuate people for four wards of Joshimath. Prime Minister Narendra Modi is keeping a keen watch on the rescue efforts. 213 rooms have been identified to house 1,191 persons, while in Peepalkoti 491 rooms have been identified to house 2,205 persons. 63 foodgrain kits, 53 blankets have been distributed.
There were protests in Chhawni Bazaar where people expressed anger over evacuation without proper housing arrangements. Nearly 30,000 residents of Joshimath are going to be rendered homeless after demolition work is complete. A team of experts from Delhi has already made a survey to find out the exact causes behind the sinking of this town.
The team from Central Building Research Institute (CBRI) visited the town on Monday and checked the wide cracks that have developed in buildings. Children, women, youths and senior citizens have now been rendered homeless, tearfully watching their homes which are going to vanish in a few days. The local administration is grappling with the problem of lack of full details of all shops and commercial properties in the town. Once these properties are demolished, records and details will be needed for the administration to calculate compensation. On top of the current crisis, is the looming threat of fresh snowfall and rain.
Joshimath is considered the gateway to the famous pilgrimage of Char Dhm. Naturally, Hindu saints and owners of monasteries are worried. Congress leader and former chief minister Harish Rawat said, there is no other option but to set up a new town by the name of Joshimath. He demanded immediate stoppage of all work of hydro-power project and all-weather roads.
Joshimath is a renowned tourist spot and a place of pilgrimage. According to Ramayana, the famous 'sanjeevani booti' was found on Drona Hill here. Adi Guru Shankaracharya sat on meditation in Joshimath, while setting up four 'dhams' across India. He set up a monastery here. There is the famous Narasingha temple in Joshimath. During harsh winter, when Badrinath is closed, Lord Badri Vishal is brought to Joshimath. Naturally, Hindus are praying to Lord Badri Vishal to save them from this disaster.
Yet, there is only one way out. The entire town has to be evacuated, before it sinks deep into the earth. Common people are unwilling to leave their home and hearth. I can understand their feelings and emotions, since their families have been residing in this town since several generations. They spent their entire savings in building their homes. They would not like to live in temporary shelters.
Also, this is not the time for engaging in political allegations and counter-allegations. It is a fact that the first cracks in Joshimath were noticed in 1970. The V. C. Mishra committee gave its report in 1976, but no action was taken. This is not the time for engaging in blame game. All political parties and civil society must join hands to ensure not a single life is lost.