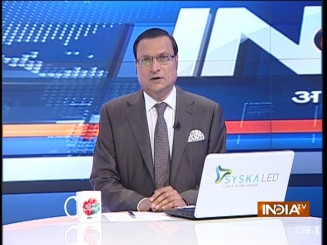 On Monday, an all-party condolence meeting in New Delhi saw both the main political rivals from Kashmir valley – Dr Farooq Abdullah of National Conference and Mehbooba Mufti of People's Democratic Party – praising Atal Bihari Vajpayee's Kashmir policy in one voice. This happened in the presence of Prime Minister Narendra Modi, RSS chief Mohan Bhagwat and leaders of all major political parties. While Dr Farooq Abdullah chanted 'Bharat Mata Ki Jai' and recalled how Vajpayee stood firm with army jawans near the Line of Control despite firing from the Pakistani side, former CM Mehbooba Mufti praised the "Kashmiriyat, Insaniyat, Jamhooriyat' policy of Vajpayee. Mehbooba Mufti said Vajpayee won the trust of the people of the Valley by holding free and fair elections. "Today Kashmir weeps in memory of Vajpayee", she added.
Mehbooba Mufti's words carry weight. It was a big historic change in the Valley when people came out in large numbers to vote in a free and fair election during Vajpayee's regime. Both Farooq Abdullah and Mehbooba Mufti called for pursuing Vajpayee's policy while solving the vexed Kashmir issue. One should understand that the issue of Kashmir cannot be delinked from Pakistan. Atal ji understood this, and tried to convince the people of both India and Pakistan about this.
As one leader after another from diverse political parties like Congress, AIADMK, DMK, Trinamool Congress, Shiv Sena and Biju Janata Dal, stood up and praised Vajpayee, it underlined one major fact. Vajpayee, as a large-hearted statesman, used to carry political parties of all hues with him together. It was he who showed that a coalition government of 22 political parties at the Centre can work successfully for six years. Vajapyee's greatest strength was that he not only carried rival political parties with him, but also neighbouring countries. It was during his regime that China for the first time acknowledged the accession of Sikkim with India, and the Nathu La border trading post was opened. Secondly, he knew how to forge relationships and always remained true to his friends.
The biggest tribute that we can pay to Vajpayee will be to follow his path of inclusiveness, and create an atmosphere of harmony and amity. On behalf of India TV family, I once again offer my humble tributes to the great statesman.
Click Here to Watch Full Video | Get connected on Twitter, Instagram & Facebook